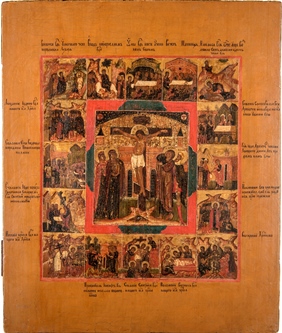 The Secret Language of Russian Icon Symbols
Russian religious icons in medieval culture were a unique phenomenon. Intended to change and bring human consciousness to the spiritual world, they served as a means to help people find their own way to God and heaven. This was achieved by using a special language of symbols embedded by religious icon painters in their works. The fact is that most Christian believers in medieval Russia couldn't read, but they could understand different symbols they knew since childhood. Moreover, Russian icons of the time were not regarded as works of art. The only important thing about them was their content.
Much time has passed since then, and many things have changed. Antique Russian icons are now exhibited in museums and galleries, which makes them no less important than other masterpieces of the medieval art. However, their content filled with numerous symbols is still the most important thing about them. No wonder, Russian religious icons are called "windows into heaven." Thereby, if you want to understand these exceptional pieces of sacred art, you need to learn the secret language of Russian icon symbols. Start with the following:
Seven sacraments depicted in Russian icons
Water vessel – Baptism
Bottle of oil – Anointing of the Sick
Holding hands – Matrimony
Blessing hand – Ordination
Chrismatory (vial for Myrrh)– Chrismation
Two eyes – Confession (Reconciliation)
Chalice and diskos (paten) – Holy Communion
Symbolic objects related to the Holy Scripture
Dove holding a branch in its beak – Spirit of mercy and compassion
Golden candlestick – Spirit of knowledge
Seven golden stars – Spirit of understanding
Gospel – Spirit of counsel
Book – Spirit of wisdom
Laurel wreath – Spirit of rejoicing and praise
Seven golden horns – Spirit of power and might
Thunder arrows – Spirit of the fear of the Lord
Golden cross, anchor, and heart – Faith, hope, and love
More symbols depicted in antique Russian icons
Red cross – Symbol of the martyrdom and revival
Two or three trees – Symbol of the forest
House – Symbol of the construction and creation
Oak – Tree of life
Golden crown – Symbol of the spiritual victory
Light shining through the heavenly spheres – Symbol of the Holy Spirit and the miracle of the incarnation
Anemone flower – Symbol of the sorrows of the Blessed Virgin Mary, the Mother of God (usually depicted in the Russian icons of " The Descent from the Cross" and "The Crucifixion")
Mountain – Symbol of the spiritual and moral revival
Angel's staff – Symbol of the heavenly messenger
Halo – Symbol of the Divine glory that transforms a person united with God
In this way, symbols depicted in Russian icons represent a secret language you should learn in order to understand them. The same applies to colors. Each color used in painting religious icons carries a particular meaning that plays an important role in their interpretation. If you have any questions related to one of our hand-painted Orthodox icons, please do not hesitate to contact us in any way convenient to you. We will be happy to help you understand any antique icon you are interested in!