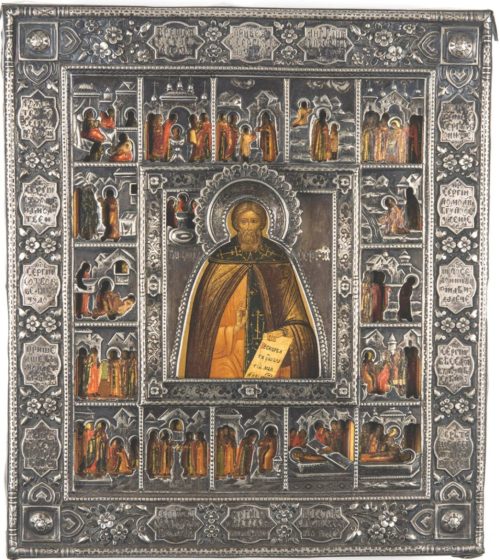 Why Pray with the Icon of Saint Sergius of Radonezh
Saint Sergius of Radonezh is widely known for his spiritual practices and is regarded as one of the most significant saints for Russian society. As a great Russian ascetic, he founded several monasteries, including the Trinity Lavra of Saint Sergius, promoted the ideas of Russian eldership, and spiritually mentored thousands of Christian believers. In this blog post, we will talk briefly about the saint's life and why pray with his Orthodox icons. 
Brief biography of Saint Sergius of Radonezh
St. Sergius of Radonezh was born in 1314 in the Moscow region. When his parents died, he decided to live in the wilderness in order to abide alone in prayer to God. St. Sergius became a model for many monks who ultimately chose him as their spiritual mentor.
St. Sergius of Radonezh was deeply involved in monastic teaching and the founding of churches and monasteries in the northern forests of Russia. Owing to his prudence and ability to perform miracles, believers frequently visited him to receive his prayers and admonitions.
Saint Sergius of Radonezh died on September 25, 1392. The entire Orthodox Church honors his memory on October 8. 
Saint icon types
There are many variations of St. Sergius of Radonezh icons. He is often depicted half-length, holding an open or folded paper scroll. Hagiographic icons of the saint have also gained great popularity. For example, one of the most famous ones is the icon with 17 scenes of the life of Sergius of Radonezh from the collection of the Andrei Rublev Museum. The figure of the saint is placed in the center; its proportions are elongated and unrealistic. In his left hand, he holds a scroll, and his right hand is raised in a gesture of blessing. 17 scenes from the life of St. Sergius appear on the icon's boards.
Why pray with the icon of Sergius of Radonezh
According to the legend, Saint Sergius of Radonezh often granted healing to the sick and helped people overcome fears and anxieties.
It is known that the saint had long been unable to read and write. One day, he met a monk who then prayed to God to help the boy. After this event, St. Sergius began to read the psalms and the Scriptures and to understand them. For this reason, icons of the saint can help acquire new knowledge and promote mental development.
Do not miss the opportunity to view the icons of Sergius of Radonezh and pray with them to strengthen your spirit.