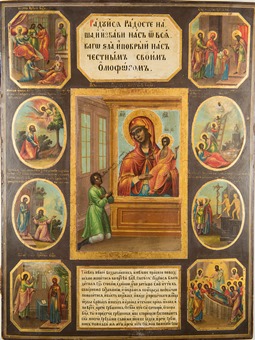 Where to Buy Icons?
Whether it comes to modern religious icons or antique Russian icons, all of them are considered windows into heaven, which help people foster a stronger connection to God and also give an idea of what the heavenly realm looks like. It is no wonder that icons can be found not only in churches and monasteries but also in homes of many Orthodox Christian believers. Hence the question arises: where do people buy icons? What is no less important, can they actually do it?
First of all, let's clarify that if you are interested in buying icons, you can certainly do it. Furthermore, you can also buy icons and give them to your family member or friend, for example as a wedding or Christening gift. As for the best place to purchase a religious icon, there are usually three options to choose from.
1. You can buy icons in the church.
Obviously, the first place where you can buy icons is your local church or monastery. Moreover, such icons are already blessed by the priest, meaning that you can use them for prayer in your own home almost immediately. However, the variety of available icons for sale in churches and monasteries is usually limited, so if you are looking for something special, you need to consider other options.
2. You can buy icons in specialized stores.
Specialized stores usually offer a wider choice of icons as compared to most churches and monasteries. The only problem is that the price of religious icons they offer can be higher than expected. After all, let's not forget that it is a store, and its prices include all the bills, rent, service charges, and other expenses.
3. You can buy icons online.
To buy icons online is always a good option for two reasons. First of all, the variety of available icons is truly impressive so that you are sure to find exactly what you are looking for, even very rare antique icons. Secondly, the price is usually reasonable and depends only on the icon itself, its condition and value. However, since not all online icon stores are reliable, you should be very careful in your choice. You need a trustworthy company that not only sells religious icons but also provides all the accompanying services, like icon restoration and expert appraisal.
Now that you know where to buy icons, you can choose the most suitable option and purchase something special for your own home!