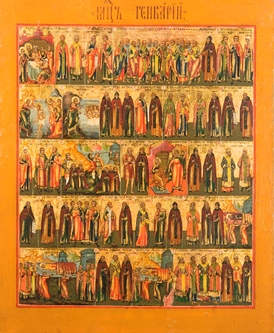 What Makes a Religious Icon More Valuable?
Hand-painted icons, especially antique Russian icons, are becoming increasingly popular among art collectors, and there is nothing surprising about that. After all, these amazing creations of religious icon art are not only beautiful paintings but also windows into the divine realm that serve as a means of worshipping God. However, if you are not an Orthodox Christian believer and don't know much about religious icons, you may wonder why seemingly identical icons sometimes have a price difference of several thousand dollars. Is it all about their age? Yes, the age truly greatly affects the value of an icon, but there are also several other criteria that are taken into account in evaluating. So if you are looking for antique icons to buy, learn what makes them valuable first!
1. Age
As it has been already written above, the icon age is always important. Obviously, an antique icon from the XVI century will have a higher price if compared to the similar in appearance icon from the XIX century. However, there can be exceptions.
2. School
The most valuable and famous religious icons available for sale refer to certain iconographic schools, such as the Palekh school, the Novgorod school, the Vladimir-Suzdal school, and so on. Thus, Palekh Russian icons will be more expensive than icons painted by unknown iconographers from small Russian villages.
3. Rarity
The rarer the icon, the more valuable it is considered. The same applies to the images and scenes depicted in icons. For example, an antique icon of the Terrible Judgment will have a higher price than a similar icon depicting the classic image of Christ Pantocrator.
4. Provenance
As you may have already guessed, hand-painted icons that have a history are usually valued higher than those whose provenance cannot be confirmed. So don't be surprised by the price of an icon that spent some time in a museum or was a part of a famous collection.
5. Popularity
The more the icon is demanded, the higher its price. For instance, a St. Nicholas icon will be more valuable than a similar religious icon of a local saint known only in the particular region.
6. Quality
Needless to say that quality plays a very important role in icon valuation. Therefore, when buying an antique icon, pay attention to every little detail, including the quality of brush strokes and pigments.
7. Condition
Condition is another essential criteria used in icon evaluating. As a rule, the better the condition of a particular icon, the higher its price. Moreover, the quality of the restoration is also very important, as the poorly done work can greatly reduce the value.
In this way, if you want to be an educated consumer, learn about antique icons, explore the world of Eastern Orthodox iconography, and always take into account all the criteria listed above. Besides, you can always ask for professional help at Russian Icon!