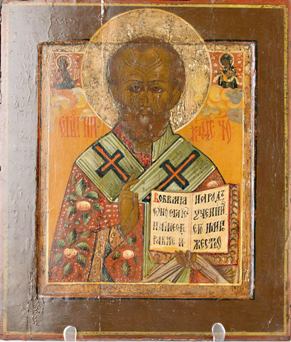 What Are the Most Popular Saint Icons?
People of faith consider an icon as a medium of instruction and spiritual enlightenment. The images of Christ and the Virgin Mary, which are pacifically depicted in icons, have a miraculous effect on people, healing their mental and physical illnesses. A separate object of veneration is saint icons. These religious works of art reflect the images and lives of saints whose holiness or sanctity made them worthy to be canonized and revered by ordinary people.
Most famous saint icons in Russia include:
Icon of Saint Nicholas the Wonderworker, with scenes from his life (Saint Nicholas of Mozhaisk)
Saint Nicholas is one of the most revered saints in Russia. According to the church legend, he lived in the second half of the 3rd – first half of the 4th century and was a bishop of Mira in Lycia. The icon (pictured) was created in the first half of the 17th century from the famous carved sculpture of Saint Nicholas with a sword in his hands.
Icon of Saint Matrona of Moscow
This piece of saint icons painted in the 21st century is acknowledged as wonderworking. Being born blind, Matrona exhibited a divine gift of insight, healing sicknesses of soul and body in those who turned to her for help. Countless believers now visit Intercession (Pokrovsky) Monastery in Moscow, where two icons of Saint Matrona of Moscow, as well as her holy relics, are kept.
Icon of Saint Blessed Xenia of St. Petersburg
Blessed Xenia of St. Petersburg, a Russian Orthodox fool-for-Christ of noble origin, was revered in her lifetime. The icon depicts Xenia in a skirt with a handkerchief on her shoulders and head, with her left hand on a crutch. The Church and the Chapel of St. Xenia are shown in the background.
Icon of Saint Spyridon, Bishop of Trimythous 
Saint Spiridon was born around 270 A.D. in Cyprus, in a village near Trimiphunt, hence his name "Trimiphunt Wonderworker." Since his childhood, Spiridon was a shepherd, leading a righteous and godly life. For this reason, Saint Spiridon of Trimiphunt is depicted in saint icons not in a miter but in an ordinary shepherd's hat.
Icon of Saint Basil Fool-for-Christ
The most famous icon of Saint Basil Fool-for-Christ was created at the end of the 16th century for the Cathedral of the Intercession of the Most Holy Theotokos on the Moat. It is still kept in its original place and is one of the oldest images in the temple.
Icon of Saint Seraphim of Sarov
One of the most revered icons of Saint Seraphim of Sarov is kept in the Danilov Monastery in Moscow. As the legend says, the saint had a gift of foresight and healing of diseases. He was even visited by noble people, including Alexander I of Russia.
These were some of the most popular saint icons in Russia. Do not miss our new blog posts and interesting facts about religious icons!