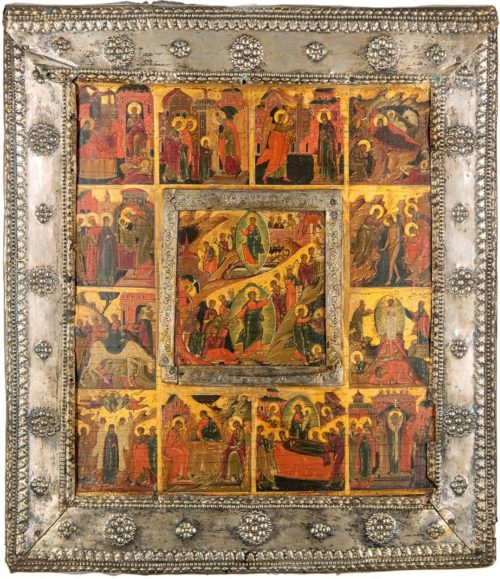 Webinar on "Russian Icon: The Basics of Modern-Day Collecting"
Russian Icon Collection is pleased to share the news about the upcoming interactive webinar scheduled for February 17, 2021. The webinar titled "Russian Icon: The Basics of Modern-Day Collecting" will be hosted by ARTinvestment.RU, an online platform dedicated to Russian art. The project leaders will discuss the important issues associated with modern-day icon collecting with well-known collectors, antique dealers, and art critics.
You can access the webinar via Zoom on February 17, at 8 pm GMT+3.
Don't miss the interactive webinar on "Russian Icon: The Basics of Modern-Day Collecting" this Wednesday!
If you are interested in Russian icons and the contemporary Russian art market overall and want to discuss the issues in this area with experts, be sure to take part in the upcoming webinar. It will be hosted by the head of ARTinvestment.RU Egor Molchanov and the editor of the online project Denis Belkevich. Special guests include the renowned collector and expert in Russian icons Sergey Khodorkovskiy, specialist in the history of Orthodox icons Anna Ivannikova, and the art dealer and critic Nata Morehod.
It is also worth noting that Sergey Khodorkovskiy and Anna Ivannikova are the co-authors of the book "Russian Icon Collection" created by our online gallery in collaboration with the Museum of the Russian Icon in Moscow. Together with the leading icon specialists, we have presented a unique collection of antique Russian icons dating to the 18th – 19th centuries, with their detailed descriptions that provide a full outline of Russian iconography of the Imperial period.
Connoisseurs of religious art and Russian icons in particular will find the upcoming webinar both interesting and instructive since the topics to be discussed are crucial to icon collecting and the contemporary art market as a whole.
The leading experts in Russian iconography will discuss the following:
Russian icons and their significance for the global art market;
The reasons why famous people start collecting icons;
The role of a collector, a dealer, and an art critic in the art market.
These and other topics will be the subjects of discussion at the webinar on "Russian Icon: the Basics of Modern-Day Collecting." Our online gallery will definitely take part in this important live event this Wednesday.
Please note that the webinar will be in Russian, so if you are interested in religious icons and have no trouble communicating in this language, be sure to join us on February 17. For more information, feel free to contact ARTinvestment.RU.