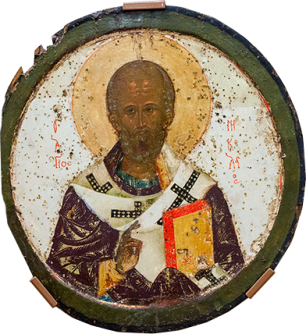 Types of Antique Icon Forgery
It's not a secret that today's art market is filled with lots of crafts, carvings, jewelry, fine art pieces, and other unique artwork, many of which are unfortunately fakes. Therefore, if you don't want to make a terrible mistake, you should be very careful when buying a pricey item from a suspicious art dealer or company. The same applies to religious icon art and antique Russian icons in particular. These beautiful sacred paintings have been subject to forgery for many years, which makes authentic antique icons real findings that are now highly valued by both, art collectors and Christian believers. We have already written about how to spot a fake, but let's take a closer look at some of the existing types of antique icon forgery.
1. Modern fakes
Modern antique icon fakes usually represent art printings pasted onto wood panels and covered with a thick layer of varnish with artificial traces of age and patina. They are not hand-painted and don't possess any intellectual content, not to mention that such works are considered criminal fraud.
2. Old copies of original religious icons
In the late 18th – mid 19th centuries, many iconographers made copies of famous religious icons for wealthy patrons who requested them. It was not illegal at that time, as such replications were not intended to be sold as original antique icons. However, for today, these copies are again on sale but this time with very different intentions.
3. White-washed icons
Some dishonorable religious icon sellers remove layers of color with significant loss sections in order to make an icon look older and, therefore, more attractive to the buyer. This method is known as white-washing. As a result, such icons are sold as antique pieces, but, in fact, they are not. On the contrary, white-washed religious icons decrease in price due to the reduced symbolic power and damaged surface.
4. Icons with riza but without underlying painting
When buying an antique icon covered by a metal riza, make sure it has painting underneath. It so happens that when you take the riza off, you may find out that the only elements painted are those visible through the openings. This religious fraud has been already practiced for many years, so always carefully explore the icon you are going to buy.
5. Icons painted by iconography students
Students of iconography schools practice their skills by copying original hand-painted icons, and that's OK. However, sometimes their works with artificial traces of age appear on the market, which makes them another type of antique icon forgery. Needless to say that such icons cannot cost thousands of dollars, not to mention that many of them are truly of poor quality.
This is exactly why it is so important to buy antique icons from only a reliable and trustworthy company or art dealer. Otherwise, you risk to fall into a trap. Contact Russian Icon, and we will help you make the right choice!