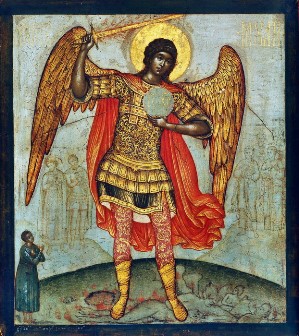 Antique Russian Icons: How to Spot a Fake?
One of the biggest problems you may face when buying antique Russian icons is a possibility to buy a fake. There are actually lots of genuinely old panels with new religious icon paintings on them available for sale today. The fact is that it's not a problem for art forgers to buy an old wooden panel with damaged painting, scrape it off, apply one of the new Russian icon paintings, and simulate its age by distressing the new paint. Voila! The fake antique icon is ready for sale! So how to avoid getting scammed? Here are some tips that will help you spot a fake!
1. Lithographed images
When buying Russian icons covered by metal riza, do not automatically assume that the image hidden by the beautiful cover is hand-painted. Take a closer look or, what is better, take the riza off to make sure that you buy a hand-painted icon. It just so happens that the image hidden under the riza can be lithographed on paper and simply glued to the old panel. In fairness, it should be noted that authentic antique icons with lithographed images do exist, but they are much less valuable than hand-painted Orthodox icons.
2. Mismatched riza
Another thing to consider when buying Russian icons covered by riza is the matching of the image with the openings in the riza. In this way, once you take the riza off, pay your attention whether all of the faces and hands are just in their right places and clearly seen through the openings. What's more, when you take the riza off, you may also find out that the only areas painted are those visible through the openings. So take the time and explore the icons you want to buy in order not to drop a clanger.
3. Excessive restoration
Please note that antique icons with more than 50% restoration should be considered as modern religious icon paintings. This simply means that excessive restoration, especially when it comes to repainted hands and faces, greatly reduces the value of any item. Therefore, when buying one of the antique Russian icons, make sure it was restored by a professional restorer. Use the black light to know the truth! Otherwise, you will waste your money.
4. New paint
Remember that most new varnishes and paints can give off a strong odor, so that do not hesitate to smell the icon's surface. This simple yet effective test can help you spot a fake. Moreover, take a closer look at the paint itself. If you find the areas lifting from the panel, be sure this "antique" icon is not antique.
5. Craquelure
Any old paint or varnish normally has a fine network of cracks called craquelure. In this way, antique Russian icons with random and irregular craquelure that extends through all the layers are a good sign. If you see such a pattern on the icon you want to buy, most likely it is authentic, as old craquelure is rather difficult to duplicate. However, avoid new craquelure that is not so deep and usually appears as a regular pattern.
These simple tips can help you spot a fake antique icon. If you are still in doubt or want to feel 100% confident in your purchase, turn to a reliable religious icon dealer for help. At Russian Icon, we offer only authentic antique Russian icons of museum quality!