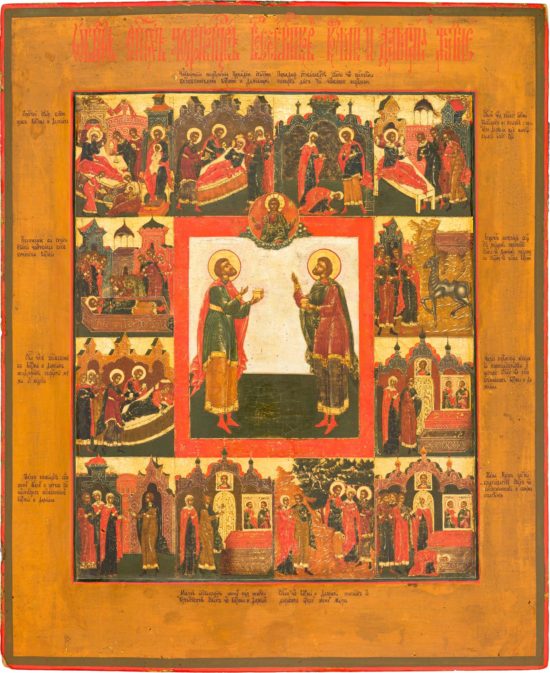 The Religious Icon of Saints Cosmas and Damian of Asia
The given religious icon depicts Saints Cosmas and Damian of Asia, who were well-known among the followers of Eastern Christianity. There are three pairs of Holy Brothers, who bore those names, mentioned in the hagiographic literature — the Arabian, the Roman, and the Asian. All of them were said to have healing powers, but all of them lived in different places and times.
The religious icon of Saints Cosmas and Damian
While the Arabian and Roman brothers supposedly lived in the 3d century, the Asian Cosmas and Damian lived in the 4th century. The latter were born to a Greek couple and were taught medicine by their Christian mother. They went down in religious history as doctors who never took payment for their services and told their patients about the Christian faith.
The iconographic tradition of religious images depicting the Asian Brothers gained popularity in pre-Mongolian Russia. This specific religious icon has a number of features that can be traced back to the Eastern Orthodox icon painting tradition of the late 19th century. For instance, we can see that the border scenes were selected in accordance with the iconographic trends of the time. The first border scene depicts the nativity of Cosmas and Damian, followed by the miracles that happened during their life and after their death, which is a common trait of canonical hagiographies.
The centerpiece of the given icon depicts the two brothers, each holding a vessel in one hand. Some other popular icons of these saints depict them holding a vessel in one hand and a quill in the other.
The distinct artistic style of this religious icon indicates that it was painted by the master from Guslitsy, an area commonly referred to as "Old Believer Palestine" due to a large population of so-called Russian Starovers (Old Believers). Guslitsy was the center of Old Believer's religious life. It was also home to many icon painters who, among many other things, were known for their intricate hand-painted icons and book illustrations.
Guslitsy's recognizable icon-painting style developed under the influence of other Orthodox Russian iconographic schools. Palekh traditions clearly informed the way Guslitsy icon painters approached composition and the choices they made in regard to light and color. A characteristic specific to Guslitsy's unique style is the masterful use of calligraphy and attention to detail, which reflects the icon painter's literacy and extensive experience in the art of illustration.