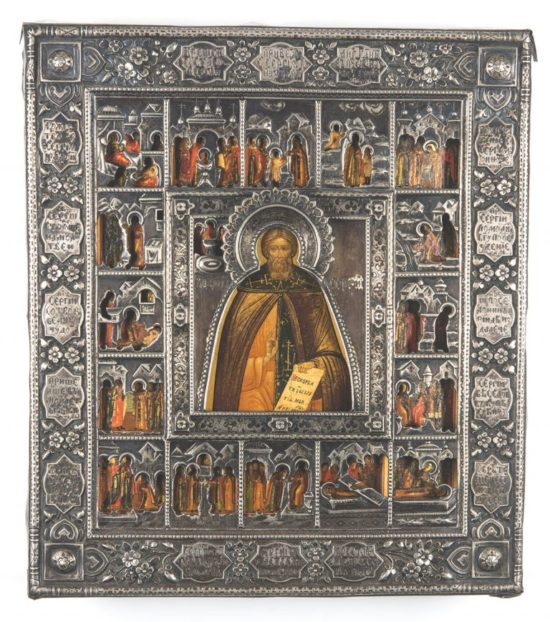 The Icon of Saint Sergius of Radonezh
The name Sergius of Radonezh has a special place in Russian monasticism and Eastern Orthodoxy. He is justifiably considered one of the most respected and significant Russian saints and spiritual leaders. Not only did he establish influential social programs and doctrines, but he also founded the Holy Trinity monastery north of Moscow. Nowadays, it is called the Trinity Lavra of St. Sergius and enjoys the status of a spiritual center of the Russian Orthodox Church. At Russian Icon Collection, we are delighted to own the holy 19th-century icon of Saint Sergius of Radonezh covered in a silver oklad and featuring 16 hagiographical scenes.
The icon of Saint Sergius of Radonezh with 16 hagiographical scenes
The hagiographical icons featuring the saint come in great variance, each presenting different narratives conveyed by various icon painters throughout history. The oldest one was created by Sergius' disciple and monk Epiphanius the Wise in the 15th century. As for the oldest existing icon, the antique piece was painted around 1480 and now belongs to the iconostasis of the Holy Trinity Cathedral.
The hagiographic cycle that you see in the painting takes the traditional approach. It starts from the scenes of Baptism and Nativity and proceeds to the education of the young boy who meets an angel in the form of an elder. Border scenes pay tribute to the miracles that Saint Sergius of Radonezh worked during his life. These include the vision of an angel at liturgy, the resurrection of the dead child, and the calling of the waters from the stone. As a reward for his actions, Saint Sergius received the revelation from the Holy Mother who came to the ascetic with the Apostles John and Peter.
Upon closer look at the icon of Saint Sergius of Radonezh, you can also notice three scenes that tell the story of a villager who wanted to meet the Russian monk. A man expected to see a glorious, pious elder but instead encountered the saint with worn-out clothing. At first, he was disappointed, but then he saw how Sergius gave him a blessing and became ashamed of his behavior. At the end of the story, the saint showed great humility and comforted the poor man. The depicted story belongs to the Old Believer tradition, and the featured icon is no exception.
The hand-painted icon of Saint Sergius of Radonezh dates back to the second half of the 19th century. It can be assumed that the piece was painted in Guslitsy, a notable Old Believer center in Moscow. The silver oklad cover that you see on top of the painting is a shining example of high-quality silverwork decorated in Russian style. Unfortunately, the names of the masters responsible for the antique icon have been lost to time.