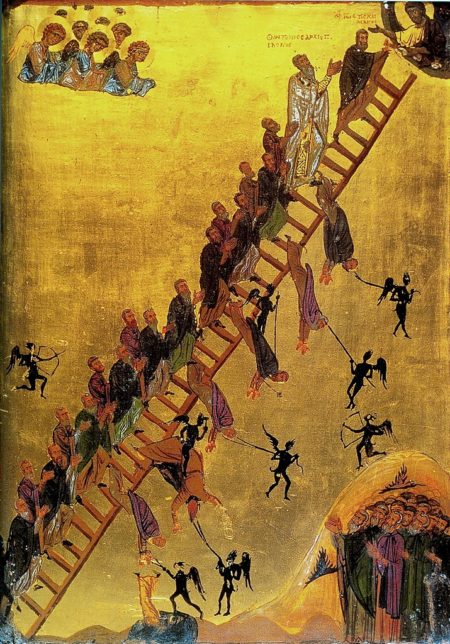 The Profound Meaning of the Ladder of Divine Ascent Icon
The Ladder of Divine Ascent is the most significant Eastern Orthodox monastic composition. The author of such an insightful religious work is Saint John Climacus, a Christian ascetic and abbot of the Sinai Monastery. The Ladder of Divine Ascent icon refers to the religious book by the saint and depicts visually the battle between the monks and their sins. Read on to learn more about the meaning of this holy icon. 
The Ladder of Divine Ascent icon: description
According to the legend, the ladder to heaven appeared to John while he was in seclusion in a cave close to the monastery. In icons of this type, the ladder is placed in the center of the complex composition. It extends diagonally and has 30 steps, just like the chapters in the book by St. John Climacus. Each step is a move toward heaven and Jesus Christ.
Monks climb the ladder, while demons are trying to throw them down. Some successfully make it to the top, while others, unable to overcome their sins, go to hell. At the top of the stairs, and the entire composition, stands Christ, along with the Virgin Mary and John the Baptist. The saints are to the left of the ladder, and John Climacus himself is depicted at the bottom. He points to the ladder as the way to the salvation of the soul.
The sacred meaning of the "Ladder"
As mentioned above, the Ladder of Divine Ascent icon is a visual representation of the monks' (and every Christian) struggle with their sins that are shown in the icon as demons. The hardship one experiences while climbing the ladder is not only physical but also spiritual. The icon clearly shows what happens to those who fail to cleanse themselves of their sins and achieve spiritual harmony – they are sent into the abyss of hell. While the first steps of the ladder symbolize man's struggles with earthly pleasures, the higher steps are those of faith, purity, and blessing.
The Ladder of Divine Ascent icon is a depiction of the monastic life described by St. John Climacus in his book. It is highly revered by Orthodox Christians and is often kept in the homes of believers.