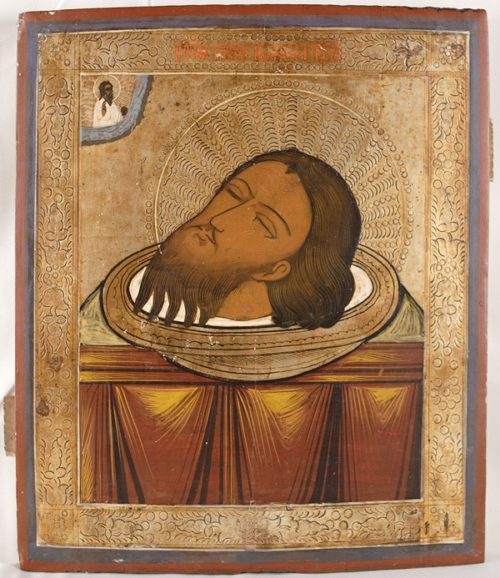 Russian Religious Icons of the Beheading of John the Baptist
John the Baptist, also known as John the Forerunner, is one of the greatest Christian saints, and the Beheading of John the Baptist is an important event commemorated by various Christian churches following liturgical traditions. Russian religious icons depicting the scene of the saint's martyrdom are well-known and highly revered throughout the world. John the Baptist is noted for predicting the coming of the Messiah and being the one who baptized Jesus Christ in the Jordan River. For his godly deeds, the saint was martyred at the command of King Herod. Read more on the topic in our new blog post.
The legend of the beheading of John the Baptist
The biblical story of John the Baptist's death tells us that the saint was imprisoned by King Herod Antipas himself because he denounced the tetrarch for his cruel deeds and for illegally living with his brother's wife, Herodias. However, John was not executed and served his sentence in prison. The tetrarch was fearful of a possible revolution that could happen after the saint's death who was so much loved by the people.
Herodias, who harbored a grudge against John, incited her daughter Salome to ask the king to kill the saint. Herod could not refuse Salome since he promised to fulfill her every wish in exchange for the dance. As a result, the saint's head was cut off with a sword and brought to the king on a platter. After John's death, Herodias, fearing the resurrection of the saint, pierced his tongue with a needle and buried his head apart from his body. However, the righteous people found the head and buried it together with the remains of the great saint.
Russian religious icons of the Beheading of John the Baptist
There are various types of religious icons depicting the scene of the beheading of John the Baptist. Traditionally, Russian religious icons depict the saint's head on a large bowl or platter. Sometimes, the outline of a church or temple appears in the background. The face of John the Baptist is shown calm and luminous, symbolizing the grace contained within his soul.
Another variant of Russian religious icons is the scene of the martyrdom itself, where John the Baptist is depicted bowed, with a sword raised above him. This scene is usually painted against a desert backdrop.
John the Baptist is undoubtedly the beloved saint of all Christians. It is believed that he can heal the soul and body of anyone praying in front of his icons.