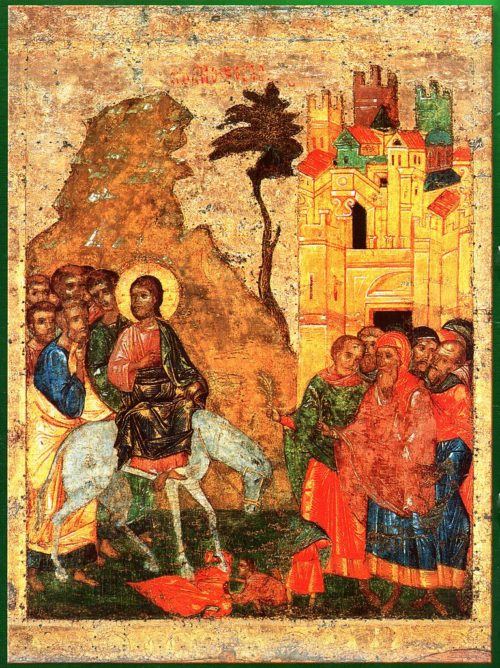 The Palm Sunday Icon: Christ's Entry into Jerusalem
"Hosanna! Blessed is He Who comes in the Name of the Lord, the King of Israel!" These are the words that people shouted, waving palm branches as Christ entered Jerusalem on a donkey. Today, all Christians commemorate this event by celebrating the great feast of Palm Sunday. The iconography of the feast conveys nearly all its details. However, in the Palm Sunday icon, one can find not only a retelling of the event but also its profound meaning.
The history of Palm Sunday
The events of the Lord's entry into Jerusalem are found in the four canonical Gospels. Palm Sunday is one of the Twelve Great Feasts in the Orthodox Church, which precedes Easter.
Jesus Christ sitting on a donkey, which symbolizes the coming of peace, enters the holy city of Jerusalem. The crowd shouts words praising Christ, waving the palm branches and laying their clothes under His feet. To the ancient Jews, palm branches were a symbol of triumph, merriment, and purity. In Russia, however, the attribute of celebration is the branches of a willow.
Christ entered Jerusalem the day after the resurrection of Lazarus. Even though He was welcomed in the city as a king, this event served as a foreshadowing of His martyrdom. Entering the city, Christ knew that treachery and suffering awaited Him there.
The Palm Sunday icon
The Palm Sunday icon, which is known as Christ's Entry into Jerusalem, depicts the events described in the scriptures in detail. Jesus Christ sitting on a donkey is depicted in the center. He is on His way to Jerusalem. One can see a halo over His head and a scroll in His hands, which symbolizes His Holy Wisdom. Sometimes, Jesus is depicted sitting on a horse, not a donkey. This makes sense because the horse is one of the pagan symbols, which signifies the coming of the Son of God not only to Christians but also to all nations.
The city of Jerusalem is to the right of Christ, and the Mount of Olives is to the left. The Savior is followed by His apostles. His head is slightly turned to the side as if showing the right way to the disciples. People greet Christ with palm branches, covering the road before the Messiah with their clothes.
The Palm Sunday icon is very important to all Orthodox Christian believers, as it is dedicated to one of the Twelve Great Feasts that are the major celebrations of the liturgical year.