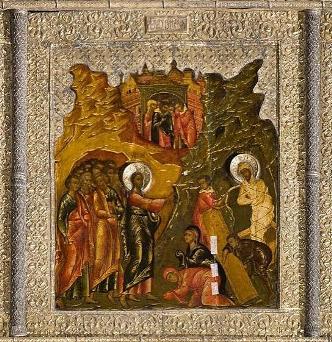 The Miraculous Legend of the Raising of Lazarus Icon
Having been changed only slightly over time, the Raising of Lazarus icon, however, lacks detailed interpretation. This is because the story of the Lazarus Resurrection can be found only in Chapter 11 of the Gospel called "of John." The first depictions of this legend appeared in the catacomb paintings and reliefs of sarcophagi, attributed to early Christian sites. The theme of the Lazarus Raising points to a future general resurrection of all people, and, therefore, it often appears at burial sites even these days.
The legend behind the Raising of Lazarus icon
The Gospel tells about the town of Bethany, where Lazarus and his two sisters, Martha and Mary, lived. At one point, Lazarus got seriously ill, and his sisters decided to ask Jesus for help. The Son of the Lord arrived on the fourth day after the death of Lazarus, who was already buried in the cave. There was no hope of salvation for the sisters. A terrible scent of death stood near the cave, meaning that the body of their beloved brother was already decaying. Nevertheless, Jesus commanded to take away the stone obstructing the entrance, looked into the cave, and said loudly, "Lazarus! Come forth!" And indeed, Lazarus appeared from the cave, wrapped with linen strips like a baby, and those present at the miracle of Resurrection leaned down before Christ.
The iconography of the Raising of Lazarus
With centuries, the image of the Resurrection in the Lazarus icon has not significantly changed. Early Christian monuments often presented this miracle as a brief, double-figure scene. The iconographic types of the image of Christ just began to take shape in that period. Jesus was portrayed as the eternally young God. He was often depicted with a light cane as an attribute of the wonderworker in His hand. In course of time, the cane, with which the Lord touched Lazarus, became a short rod and later completely disappeared as an extra detail. After all, to perform a miracle God does not need a tool; His own will is enough.
Traditionally, in the Lazarus icon, Jesus is depicted next to the cave, with Martha and Mary at His feet. Jews who came to see the miracle are shown near the cave. Some people cover their noses with handkerchiefs. The resurrected Lazarus appears from the darkness of the cave that symbolizes death.
This religious story is highly revered by Orthodox believers who often turn to Lazarus icons to strengthen their faith. His icons, as well as many others with a great story behind, are believed to heal the soul and body of everyone who has God inside.