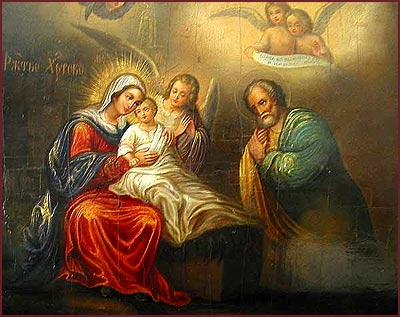 How and Why to Collect Russian Icons?
Welcome to RussianIcon – a unique platform dedicated to rare, one-of-a-kind, and antique Russian icons! This website founded by a distinguished expert on Eastern Orthodox icons Oleg Kushnirskiy will help you penetrate the world of museum-quality icons and reveal their incredible spiritual power. So open your mind and enrich your life with very special Russian icons that you can find on this website!
One of the reasons you may be here is that you are a long-time collector of Russian religious icons, like we are, or you are just going to establish your first collection. Anyway, let us give you some advice on how to acquire a trained eye for antique Russian icons and to decide which Orthodox icon is worthy of your attention. First of all, you should attend specialized exhibitions, go to Russian icon museums, and visit appropriate galleries to develop a feeling for quality. The fact is that icons, especially antique Russian icons, speak for themselves, and you can learn much just by looking at them. Further, you can also increase your knowledge by reading special literature on Eastern Orthodox icons. This will help you understand that there are no two icons identical to each other even if they seem the same. However, sometimes to see the difference can be a challenging task equal only to professionals who are aware of a variety of themes and styles and can discover the iconographer's individual manner of expression and depiction. In fact, the religious icons studying process is a lifetime education that constantly brings something new.
Another question is how to decide which Russian icon to purchase? It's quite easy! The one that appeals to you! In other words, always buy icons you really love. It is the most important consideration for both long-time collectors and those who are just going to start collecting. One more crucial thing is the necessity to establish contact with respected experts in the field of Eastern Orthodox iconography, as well as with specialized galleries, as they can professionally assist you in buying an entire collection or a single museum-quality religious icon. This is where we can help you! Working with the leading specialists in this sphere, we can not only tell you about the condition, quality, uniqueness, and provenance of antique Russian icons but also guarantee the authenticity of any item that you buy from us. After all, each of them has been checked by Oleg Kushnirskiy himself!
Finally, form your collection of Orthodox icons with intelligence and passion. Only in such a case, it will stand the test of time aesthetically, emotionally, and, what is also important, monetarily. Moreover, a collection of famous religious icons can be a good investment. However, Orthodox icon collecting should not be motivated by the hope of financial gain, or it may bring you to a very mediocre collection that doesn't retain its true value. Be honest with yourself, and you will succeed!