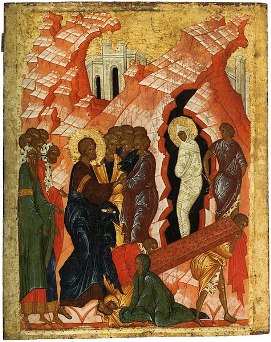 The Marvelous Story behind the Raising of Lazarus Icon
The resurrection of Lazarus is one of the earliest Biblical plots to find its reflection in the masterpieces of Christian art. Usually, the formation of a particular iconography is associated with the appearance of the celebration in the Church calendar. However, the Raising of Lazarus icon is an exception because it allegedly appeared before the appearance of the holiday. This Biblical story can be found in the earliest extant Christian artifacts.
Miraculous Lazarus' resurrection occurred during the journey of Messiah to Jerusalem when He was near Bethany. The Son of God not only resurrected Lazarus but also gave him back his immortal soul, proclaiming the will of His Father and proving that sincere faith gives everyone eternal life. This spectacular event served as a plot for the famous piece of Russian icon art, known today as the Raising of Lazarus icon.
History of the Raising of Lazarus Icon
The Raising of Lazarus icon depicts the wonder created by the Savior and described in the Gospel. Jesus was familiar with the family of Lazarus. Martha, his sister, anointed Christ's feet with myrrh and wiped them with her hair. This gesture symbolically indicates the atoning death of the Messiah.
Lazarus was brought back to life by the divine power of God and His Son. The sincere faith of Lazarus' relatives and the Supreme Power helped the deceased. After Jesus' words, "Lazarus, come forth!" the resurrected man emerged from the cave. His body was wrapped with linen strips, and a piece of cloth was tied around his face. The Messiah commanded to help the righteous man get rid of his burial clothes, and the risen Lazarus appeared before his sisters and the disciples of Christ. After the wondrous resurrection, he lived another 30 years, proving the power of the Lord with his life, always coming to the aid of sincerely faithful people.
Description of the Lazarus Icon
This holy image appeared in the early Christian times. The Savior's disciples are depicted on the left side, next to Jesus Christ blessing the entrance to the cave. On the right side, there is Lazarus bound by the burial bonds. He comes out of his burial cave to meet his sisters, Martha and Mary, who are kneeling. Some versions of this religious painting depict two young men. One of them covers his face with his hand. The other young man opens the entrance to the cave, removing the stone.
Orthodox Christian believers turn to the Raising of Lazarus icon with prayers to strengthen their faith. They ask for forgiveness for their sinful deeds and pray for the healing of ailments. The icon of the resurrection of Lazarus protects all believers from any evil and helps overcome life difficulties.