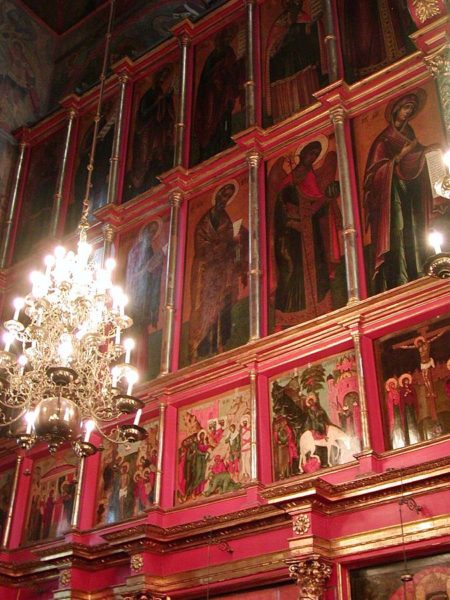 The Iconostasis of the Cathedral of the Archangel Michael in Moscow
The large and magnificent iconostasis of the Cathedral of the Archangel Michael in Moscow impresses with its monumental structure. This beautiful Russian iconostasis dated from 1678-81 is a notable holy treasure of the entire Orthodox Church. It is located in the Cathedral in the Kremlin of Moscow, which is now part of the Moscow Kremlin Museums. Keep reading our new blog post to learn about its complex composition and details.
The composition of the iconostasis
The iconostasis is an inherent element of the Cathedral of the Archangel Michael that is regarded as a unique piece of religious art in itself. In addition to a large collection of icons, the cathedral features numerous frescoes painted by many renowned iconographers, including Simon Ushakov, Stepan Rezanets, and Fyodor Zubov.
The iconostasis of the Cathedral of the Archangel Michael, which is almost forty-three feet tall, mainly contains antique icons of the late 17th century. Its color palette, as well as the overall icon painting style, is quite simple and includes gold, green, pink, blue, and red colors. Four tiers of icons (local, deesis, prophetic, and festive) are embellished with beautiful carvings in the Baroque style.
The local tier features icons of the patron saints of the great princes and kings.
This tier contains both traditional deesis icons and icons of the Twelve Apostles. "Christ Pantocrator" is in the center of the composition, with the Mother of God and the Archangel Michael to the right, and John the Baptist and the Archangel Gabriel to the left. The Twelve Apostles are also placed to the right and to the left of Christ, six on each side.
The prophetic tier features the prophets of the Old Testament, all holding open scrolls with scripture. The image of the enthroned Mother of God with the Christ Child on her lap is placed in the middle of the row.
The festive tier shows events from the New Testament, including Christmas, Epiphany, and the Resurrection of Lazarus, among others.
The most antique icon in the Cathedral is the icon of the Archangel Michael painted in 1399 on the commission of the widow of Dmitry Donskoy in memory of her husband. The icon of the Archangel Michael in full armor adorns the iconostasis and makes it even more monumental and majestic.
In 1955, the Cathedral of the Archangel Michael was reopened to the public as a museum, which has allowed every connoisseur of sacred art to feel the spiritual atmosphere and admire the icons displayed there.
Photo credit: Wikimedia Commons User Stan Shebs / CC BY-SA 2.5