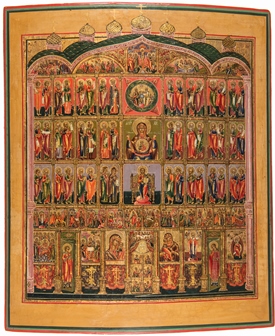 What Is the Russian Iconostasis?
In most Russian churches and cathedrals, you can find a magnificent tall wall of religious icons and a set of doors up to the ceiling. In the Orthodox Church, it is called "iconostasis." Early forms of the Russian iconostasis consisted of only 3-4 tiers of icons and were much lower. Additional tiers were added in the 16th century, which eventually gave the iconostasis its modern form. The purpose of the iconostasis is to divide the sanctuary from the nave. In other words, it is the boundary between the heavenly (altar) and the earthly worlds. The iconostasis structure consists of several tiers of icons. At the bottom, there are three gates, and the upper part of the iconostasis is completed with a cross. The icons are facing the praying people and symbolize the connection of the Divine with the Earth, serving to teach about biblical stories, lives of saints, and Christ.
Tiers of the Russian iconostasis
Traditionally, the arrangement of the iconostasis assumes the location of the Holy Doors in the center, the opening of which means the opening of the Kingdom of Heaven to Christians.
The lower tier of the Russian iconostasis often features the depictions of saints most venerated by the local church community or saints in the honor of whom the church was consecrated. However, sometimes, this tier of icons is absent in the iconostasis of the Orthodox Church.
The second level, which is also called Deesis, symbolizes the Church's prayer to Christ. The composition of Deesis features Christ surrounded by the praying Mother of God and John the Baptist.
The third tier can be called historical, as it introduces us to the events of Gospel history, reveals the most important moments of the Savior's coming into the world, and shows Great Feasts.
The prophetic tier refers to Old Testament prophecies and omens about the Savior who is to come into the world. The most popular icon of this tier is "Our Lady of the Sign."
The icons of the fifth tier, in their turn, refer us to the events dating far beyond our time. It depicts the ancestors, from Adam to Moses.
The Iconostasis icon ("The Image of the One, Holy, Catholic, and Apostolic Church")
The concept of the Russian iconostasis also applies to the hand-painted icon "The Iconostasis" that imitates a real iconostasis. This wonderful religious painting features all of the tiers of the iconostasis executed in a unique style, with highly ornamented composition. The notable color scheme of dark blue, green, and crimson tones makes the icon recognizable and magnificent.
The depth and beauty of the Russian iconostasis make religious art more prominent and essential for the whole world. The symbolism of such pieces assists the meditation of the Divine Mysteries they represent.