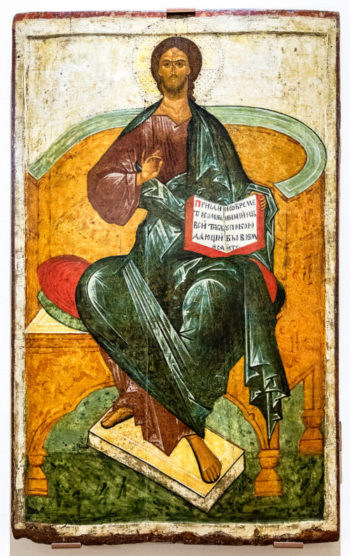 The Icon of Christ Enthroned
The popular image of Christ Almighty is called Pantocrator, which is a Greek word meaning "all-powerful" or "ruler of all things." For this reason, iconographers often depict Christ Pantocrator sitting on a throne to emphasize His power and omnipotence. Icons of this type became popular in Russia, especially in Yaroslavl, at the end of the 17th century. Since then, several variations of the icon of Christ Enthroned have been developed, but all of them have the same meaning. Let's take a closer look at the beautiful Orthodox icons of this type.
The description of the icon of Christ Enthroned
Christ, in all His majesty and tranquility, is depicted sitting on an exquisitely decorated throne. He is portrayed in royal robes of gold and red hues. The iconographers usually paint the throne in silver or gold colors. It stands out brightly against the general background and is distinguished by its majesty and lush ornamentation. In some icons, the throne is slightly illuminated in white as if to symbolize the entire universe, and Christ sitting on it represents its Creator. The Savior holds the Gospel in His hands and gives the traditional gesture of blessing.
Some icons depict the figure of Christ surrounded by angels who hold the instruments of passion – a cross, a spear, nails, etc. The sisters of Lazarus, Martha and Mary, are depicted at His feet.
It is also impossible not to mention the particular coloring of the icon of Christ Enthroned. The image is dominated by red and green as symbols of suffering and the hope of the resurrection of Christ. The letters of His name appear on each side of Christ, and the words "I am who I am" are written on His halo.
The icon of Christ Enthroned holds a special place in Christianity. It is endowed with the great power to strengthen the faith of all in need and has the ability to heal both bodily and mental suffering. In every temple, as well as in the homes of believers, there is an icon of this type, as it represents Christ in the countenance of the Judge, endowed with divine power. This image has become firmly rooted in the Christian tradition and is considered one of the most significant icons venerated by all Orthodox believers.