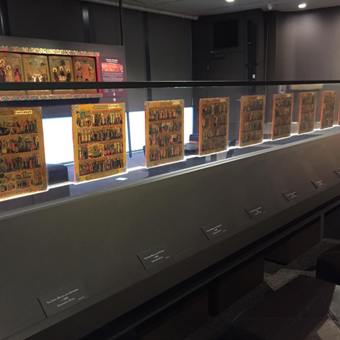 The History of the Russian Icon Museum in Clinton, MA
The Museum of Russian Icons in Clinton, MA – perhaps, the most well-known Russian icon museum in the USA – opened its doors more than ten years ago, in 2007. It is located in a historic three-story brick building of the 19th century with a picturesque view of the Central Park of Clinton, one of the oldest parks in the United States.
The Museum of Russian Icons was created on the means of the enthusiastic and successful businessperson and philanthropist Gordon B. Lankton. In 1989, Lankton visited Moscow where he coincidentally bought at the Moscow market his first example of old Russian icons for only $20. From that moment, Gordon fell in love with the Russian culture and eventually has become a passionate collector and a real connoisseur of antique icons of Russia. When his collection expanded significantly, and there was almost no place left for new icons in Lankton's house, the philanthropist decided to create his own personal Russian icon museum.
The interior of the Clinton Russian icon museum was created using the best interactive technologies and with an emphasis on the visitor's comfort. Most of the exhibits are located on the second floor. These include several rooms with original icons, sculptures of St. Neil Stolobensky and St. Nicholas, as well as copies of icons painted on order. The stands in the hall where the exhibition takes place are always filled with expertly written catalogs printed specifically for each occasion. The visitors of this unique museum of icons are also provided with large magnifiers with LED light for a better view of the Russian religious masterpieces.
The collection of the Russian icon museum is the largest in North America. There are about 700 pieces covering over six centuries – from the 15th century to the present day. Every Saturday, Gordon B. Lankton personally gives tours and shares a lot of fascinating facts from the Russian icons history, tells stories about their creation, and explains how they were purchased.
Russian icons reflect the complex history of Eastern Europe and Asia. In this Russian icons museum, visitors can expand their knowledge of the Orthodox iconography through educational videos about the political and cultural development of Russia, as well as the history of the Clinton museum. All exhibits are correctly stored in proper conditions (i.e., temperature and humidity) and are available for public viewing almost every day.
Orthodox icons are deeply appreciated by plenty of fine art connoisseurs throughout the world. Russian Icon experts share this passion and provide the Russian icon admirers with qualified help in the evaluation of their artifacts, as well as the best purchase offers.
Photo credit: The Museum of Russian Icons Official Instagram/@russianicons