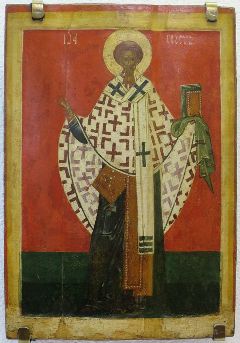 The Description of the Revered John Chrysostom Icon
John Chrysostom is one of the most venerated saints in the Christian Church. Fulfilling the Lord's command, he always cared for the needy and developed a reputation of a great preacher and theologian. Despite the fact that John Chrysostom had very powerful enemies who forced him to suffer and sent him into exile, the saint managed to become a preacher known around the world. It is believed that John Chrysostom icon is a great help for all the weak and poor people, as well as for those whose work is related to oratory.
The religious life of Saint John Chrysostom
John Chrysostom was born around the year 347 in Antioch in Syria. Since childhood, he led a righteous life and studied rhetoric under Libanius. Later, the saint chose to live an ascetic life in mountains, praying and learning theology, but due to the poor state of his health, he had to return to Antioch.
Being ordained a priest, John Chrysostom started his path as a public speaker, applying his skills in eloquence and oratory. Subsequently, he was banished and died in exile in 404 because of the enemies who resisted his preaching. Nevertheless, the fame of the great theologian and his religious writings spread across the whole world.
Christian ministry
The gift of word and sincere faith helped John become a glorious preacher. People from other cities came to listen to him; his interpretations were passed on by word of mouth. Moreover, to hear the preacher's words of support and encouragement was considered equal to God's blessing. For such a talent, the preacher was called "Golden-Mouthed (Chrysostom)." It is also interesting that as John preached in the temple, he noted commentaries on prayers and writings, as well as spiritual guidance for believers. Among his famous works are commentaries on the books of the Holy Scripture and many homilies on the individual texts of the Holy Bible.
John Chrysostom icon
The iconography of Saint John Chrysostom does not differ much from the iconography of many other saints. John Chrysostom icon almost always depicts the saint with scripture in his hands. It reminds believers that the preaching of this earthly man helped interpret and understand the message of God. The saint is portrayed along, gazing closely into the viewer's eyes. The ascetic image of the bishop's mantle contrasts with the shimmering gold or red background. The halo emphasizes the spirituality of the saint and the distinction of his verbal output, the reason why he is called Chrysostom.
John Chrysostom icon is highly revered in the Christian Church. This beautiful icon carries behind it a great story of Saint John "Golden Mouth" – one of the most beloved saints of all time.
Photo credit: Wikimedia Commons User Wmpearl / CC0 1.0