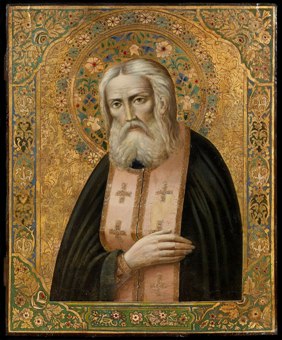 Russian Orthodox Icons of Saint Seraphim of Sarov
All the Orthodox faithful gladly celebrate the feast of Seraphim of Sarov on January 2. He is generally considered one of the greatest and most venerated 19th-century holy elders. "Acquire a peaceful spirit, and around you thousands will be saved" is the best-known saying of Saint Seraphim, which reflects the common Orthodox belief that being faithful is the only right way to live. So why is this Russian ascetic one of the most beloved saints, and how is he depicted in Russian Orthodox icons?
The disciple of the Mother of God
Originally called Prokhor, St. Seraphim was born in the city of Kursk in western Russia in 1754. Being a sick child, he had a vision of the Virgin who promised to heal him. Soon after that, the wonderworking Kursk Root Icon of the Sign, which was part of a religious procession in Kursk, healed the boy. St. Seraphim's life was full of dedication to Church, prayers in the wilderness, and asceticism. He is considered a wonder-worker for the many signs and wonders he saw and performed in his life. For his deeds and healings, St. Seraphim is called the Disciple of the Mother of God.
Life in solitude
For 25 years, Saint Seraphim of Sarov lived alone in the wilderness. After being attacked by a band of thieves who left him to die, he saw a vision from the Virgin. The Theotokos told him to live his life in solitude and teach others. After recovery, Saint Seraphim began admitting visitors as a confessor, offering them spiritual guidance and healing. At the age of 74, Seraphim of Sarov died in prayer before an Eleusa icon of the Theotokos.
Russian Orthodox icons of Saint Seraphim
Icons of Saint Seraphim can be found in every Russian church and monastery. One of the most revered Russian Orthodox icons of Seraphim of Sarov is kept in the Danilov Monastery in Moscow, along with his rosary, a piece of the saint's robe, and part of the stone on which he prayed for a thousand days.
In Orthodox icons, Saint Seraphim is usually depicted as a humble monk, often holding a prayer rope. His image is full devotion to prayer and ascetic life in the wilderness. Sometimes, he is depicted with animals next to him.
It is believed that Russian Orthodox icons of Seraphim of Sarov help heal both the physical body and the soul. Besides, they are reliable protection from heavy thoughts, depression, and despair that is, according to the holy elder, a grave sin.
Now you know more about Saint Seraphim of Sarov, the life, and his icons. Do not miss our new blog posts with interesting stories about Orthodox saints!