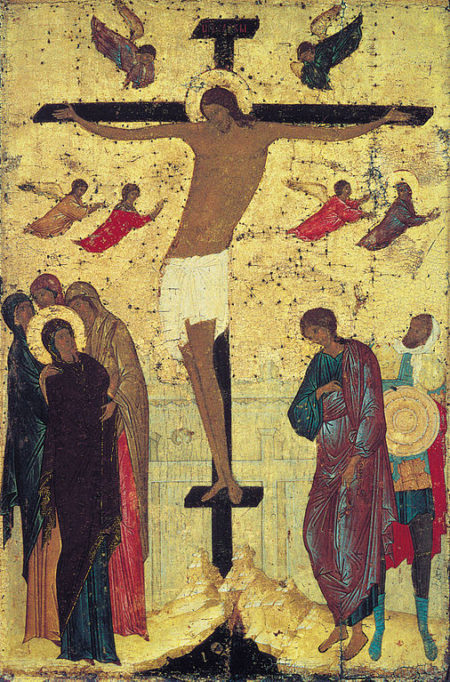 The Crucifixion Icon of Jesus Christ by Dionysius
The scene of Jesus Christ's Crucifixion is central to the Christian tradition. Iconographic images depicting this story reveal the idea of Jesus' sacrifice for the salvation of humanity and atonement for its sins. Different variations of the Crucifixion icons convey the scene of the Savior's death, based on the canons and biblical narratives. The most popular image, which is considered a masterpiece of Russian iconography, is the Crucifixion icon painted by Dionysius. The master continued the path of Andrei Rublev, adding new unique features to Russian Orthodox art. Below you will find the icon description and some facts about the life of the iconographer.
Dionysius, a great Russian icon painter
A lot is known about the life and artistic path of Dionysius. He was born around 1440. After being trained as an iconographer, Dionysius created his first work, a painting of the Church of the Nativity of the Mother of God in Paphnutyevo-Borovsky Monastery. In 1486, he painted icons for the Church of the Dormition of the Mother of God. The last noted works by Dionysius are the murals and iconostasis of the Cathedral of the Nativity of the Virgin of the Ferapontov Monastery. He painted them together with his sons, Theodosius and Vladimir. It is also believed that Dionysius created frescoes and icons for such temples and monasteries:
Spaso-Kamennyy Cathedral
Spaso-Preobrazhensky Cathedral
Moscow Kremlin
Joseph-Volokamsk Monastery
Chigasov Monastery in Moscow
Kirillo-Belozersky Monastery.
The Crucifixion icon of Jesus Christ: description and characteristics
The Crucifixion icon, which was painted by Dionysius in 1500, is considered the master's greatest merit. He depicted a key scene in the Christian tradition in a completely new manner. The focus of the strict composition now shifts to the figure of Jesus, which expresses suffering and redemption. Unlike preiconoclastic images that included a greater number of characters, Dionysius's icon concentrates on three figures: Jesus Christ, the Blessed Virgin Mary, and John the Theologian. It also features three women standing next to the Virgin, one of whom embraces her. Besides, the Crucifixion icon created by Dionysius does not depict the Roman soldiers and thieves who, according to legend, were crucified with Christ. Previously, these figures had always been included in the icon composition. One can also see angels hovering over the Crucifixion. The skull and bones of Adam are depicted beneath the foot of the cross. The image of Christ does not express hatred but rather suffering along with serenity.
Dionysius did leave behind a great legacy that is greatly appreciated by the Christian Church and many people around the world.