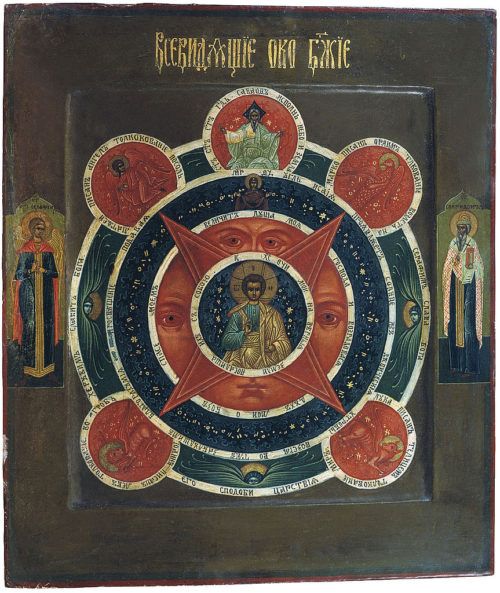 The Controversial Icon of the Eye of Providence
Russian icons often astonish and enchant the beholder with their allegorical nature and rich symbolism. Among the famous and revered Orthodox icons, there are also highly controversial ones. One of such icons is the Russian icon of the Eye of Providence, which appeared in Russia in the 19th century. Despite the disapproval of the clergy, this religious icon stands out for its incredibly deep and complex composition, the meaning of which is worth knowing for anyone interested in the Orthodox iconography.
Icon of the Eye of Providence and its meaning
The symbolism of the so-called "All-Seeing Eye of God" or "Eye of Providence" traces back to ancient times. According to the researchers, the first to use this symbol were the Egyptians. As for Russian iconography, the idea of the all-seeing and all-knowing God comes from the Bible: "Behold, the eyes of the Lord are on those who fear Him, on those who hope in His mercy." (Psalms 33:18)
The composition of the icon of the Eye of Providence is based on a continuous circle. Jesus Christ in the image of the Savior Emmanuel is depicted in the central circle. This inner circle also features rays of light, associated with the light of the Lord, which are directed to the four symbols of the Evangelists on the outer circle.
The next circle depicts the features of a human face, namely four eyes, a nose, and a mouth. The Virgin Mary as the mediator between the divine and the earthly realms is shown above this circle.
The third circle with the starry sky is a prototype of the kingdom of heaven. The outermost circle features angels with scrolls or seraphim. God the Father, with His hands raised in blessing, is depicted above them all.
The icon of the Eye of Providence contains the symbolism of the immense power and love of God. Within the context of this relic, the Lord is the beginning of everything, and His Eye represents His wisdom and knowledge.
The controversy of the icon
Most clergymen disapprove of this religious icon and consider it non-canonical. According to the church officials, it contains more of the author's imagination than actual references to sacred texts. Typically, this icon is not seen in churches, monasteries, and temples, but the relic is quite widespread among ordinary people. The Orthodox faithful believe that the icon of the Eye of Providence can protect against the evil eye, reveal a person's talent, and cure blindness.