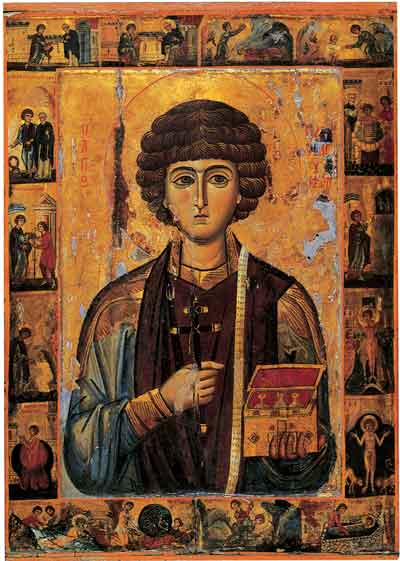 The Christian Healing Icon of Saint Pantaleon
On August 9, the Orthodox Church commemorates Saint Pantaleon, the great Christian healer and holy martyr. There are various views on the validity of the stories from his life. Catholics, for example, question the existence of this saint. However, in the Orthodox Church, St. Pantaleon is considered a highly revered great martyr who became famous for his gratuitous medical practice. The healing icon of the saint helps the faithful cope with a variety of illnesses, both physical and spiritual.
Saint Pantaleon, a Christian healer
Saint Pantaleon was born in the city of Nicomedia, Asia Minor, to a family of a pagan and a Christian. The boy had a passion for medicine since childhood and dreamed of curing illnesses. His father sent him to a famous doctor to study, and soon Emperor Maximian himself asked Pantaleon to serve as a court doctor.
Under the guidance of the Roman priest Ermolaius, Pantaleon visited the sick, the prisoners, and the wounded. There are stories of the saint healing a blind man and a boy who was dying from a venomous snake bite. Following those events, the Christians began to call him Pantaleon the Merciful. 
Witnessing St. Pantaleon's incredible gift for healing the sick and the weak, other healers began to envy him. As a result, Emperor Diocletian became aware of Pantaleon's healing powers. The saint was seized and subjected to terrible torture – he was drowned, burned with hot metal, and thrown to wild lions. But each time Christ saved the martyr from death. After hearing a voice from Heaven, which called upon the healer to come into the heavenly realm, the Roman soldiers executed Saint Pantaleon. This happened around the year 305. 
The healing icon of Saint Pantaleon 
The Christian healing icon of Saint Pantaleon depicts him as a young man with a piercing and profound gaze. In his hands, he holds a medicine box that he used when visiting the sick, a measuring spoon, and a martyr's cross reminding us of the saint's severe suffering. St. Pantaleon's attire is the traditional vestment of healers, which includes a blue chiton, gold-colored cuffs, a blue shirt, and a brown cloak. One also may notice a white ribbon tied on his left shoulder.
The Orthodox Church commemorates the great martyr on August 9. On this day, the Church serves a special prayer, and people ask the saint to give them good health and deliverance from diseases.
The healing icon of St. Pantaleon relieves pain, helps fight various ailments, and, of course, strengthens faith.