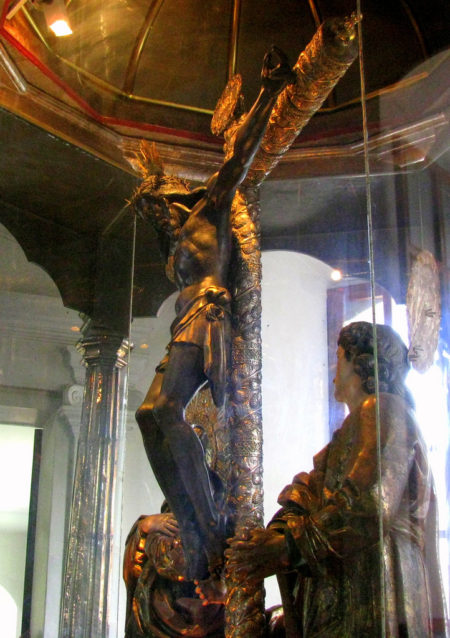 The Black Christ of Esquipulas from Guatemala
The Black Christ of Esquipulas is one of the most famous and revered images of Christ in Central America. The wooden statue, which is located in the Cathedral Basilica of Esquipulas in the city of Esquipulas, Guatemala, is believed to be miraculous since it has contributed to the healing of numerous people. For this reason, there is a grand pilgrimage to the church and even a festival held annually in Guatemala, during which thousands of faithful come to the Cathedral Basilica of Esquipulas to see and venerate the sacred image of Christ.
The history of the image
According to the legend, the wooden statue suddenly emerged in one of the Esquipulas caves. It is believed to be created by a Portuguese artist around 1595. As it has already been mentioned, the Black Christ of Esquipulas is well-known for its healing power. The fame of this incredible cultural and religious heritage first spread in the mid-18th century after the Archbishop of Guatemala was miraculously cured of a severe illness.
The name of Cristo Negro, or Black Christ, was acquired relatively recently. The image was previously known as the "Miraculous Crucifix venerated in the town called Esquipulas" and the "Miraculous Lord of Esquipulas." It is also interesting that its popularity mainly came from its acceptance among the natives of Esquipulas, who initially worshipped Ek-Kampula, a deity that they believed could change the weather.
The Black Christ of Esquipulas – a major spiritual heritage of Central America
This wooden image of Christ is a precious spiritual treasure not only of Guatemala but also of entire Central America.
It should be noted that it was in the city of Esquipulas where a peace summit was held in 1996, marking the beginning of the country's liberation from a devastating 36-year civil war. This event brought even more emphasis to the miraculous image of Christ. As the city's residents believe, it was Black Christ that put the end to the violence and bloodshed in the country.
Each year, on January 15, the city launches a large-scale festival honoring Cristo Negro. Thousands of people crowd outside the Cathedral Basilica of Esquipulas, lining up to venerate the sacred image. Most of the pilgrims are natives of the country, but there are also plenty of visitors from various parts of the world.
The Black Christ Esquipulas is a unique shrine revered by thousands of Christian believers around the world. If you ever have a chance to visit Esquipulas, you should definitely pay a visit to the church to see this miraculous wooden image with your own eyes.
Photo credit: Wikimedia Commons User Roberto Urrea / CC BY-SA 2.0