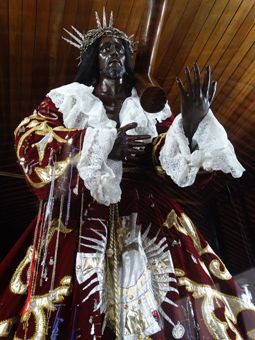 Cristo Negro – The Black Christ of Portobelo
The arrival of Cristo Negro in Portobelo, Panama inspired many faithful locals and gave them an object of great devotion. After it mystically appeared in the town, the wooden statue of Jesus Christ with a dark complexion was placed in the local church Inglesia San Felipe, where it has been amazing people from around the world since then. According to the locals' words, the statue of the Black Christ is responsible for many miraculous events, including the ending of the plague that was devastating the town. So what are the mystic legends that surround this venerated religious item, and why does this statue have a huge effect on all faithful?
A mysterious history of the statue
The statue is life-size, carved of cocobolo wood. The figure of the Black Christ carrying a cross expresses suffering. Wine- or purple-colored robe marks the adoration of devotees and atonement of sins, as well as the pain of Christ who was mockingly dressed in a royal robe by the soldiers before His crucifixion.
There is little certainty as to the origin of the statue of the Black Christ. Various legends about the arrival of Cristo Negro circulate across Panama. The most popular among them tells about a fisherman who saw a large object floating in the water next to the shore. After retrieving the statue from the sea, the locals placed it in the church and adorned with a robe, changing it twice a year: during the Black Christ Festival and Holy Week. Some scholars consider that the statue was carved in Spain and arrived in Portobelo in the 17th century. However, the accurate origin of Cristo Negro remains unclear.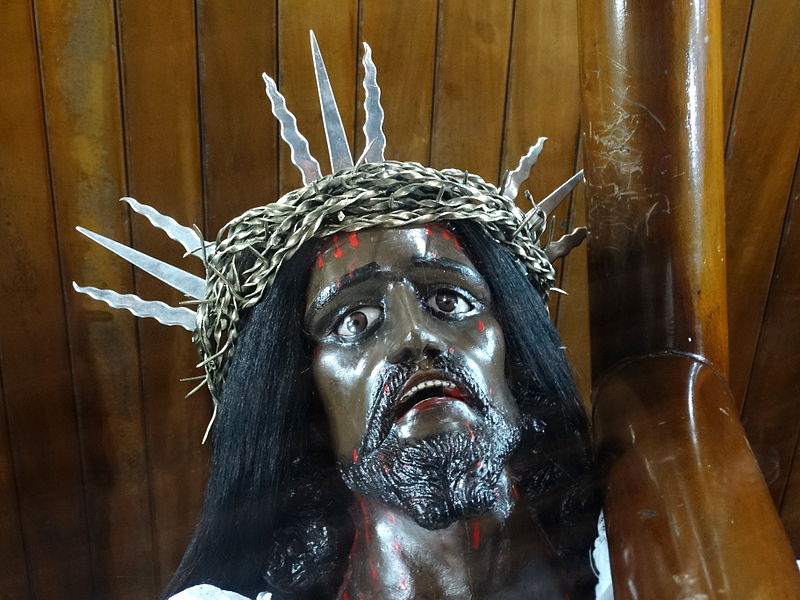 The Black Christ Festival
The Black Christ Festival is an important religious holiday celebrated in Portobelo in October when thousands of people come to see and venerate Cristo Negro. For most locals, the statue is a sign that Jesus is with them in a very concrete sense. The faithful pilgrims dressed in ceremonial robes walk more than 50 miles to Portobelo; some of them crawl the finale mile on their knees, thus showing their devotion.
The statue is also adorned with a celebration robe and is carried in the arms of the believers from the church to the coast where, according to the legend, a fisherman picked it up. The Black Christ is then returned to the church at midnight.
Cristo Negro is venerated by people all around the world. This Catholic relic has become an essential part of Portobelo culture, encouraging locals to show their faith and devotion. 
Photo credit: Wikimedia Commons User Adam Jones / CC BY-SA 2.0