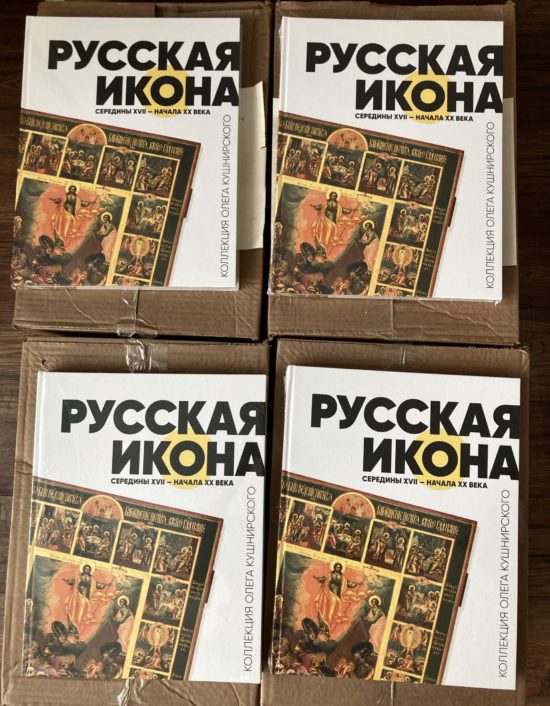 The Catalog of Oleg Kushnirskiy's Icon Collection Is in the Best Russian Libraries
We are delighted to announce that less than a month after its release, "Russian Icons from the Mid-17th to the Early 20th Century: The Collection of Oleg Kushnirskiy" has been added to the collections of over twenty major libraries across Russia, including both general-purpose and specialized university and museum libraries from Moscow and St. Petersburg to the Far East.
We are proud that our work has been so positively received by the professional community. As part of our mission, we are committed to collaborating with cultural and educational projects in a variety of formats, including joint lectures, roundtables, online presentations, and other events. We believe that by working together, we can promote and advance the understanding and appreciation of this rich artistic tradition.
The catalog of the Oleg Kushnirskiy icon collection has been added to the best Russian libraries
The book is a comprehensive catalog that features detailed descriptions and photographs of the items in the collection of Oleg Kushnirskiy, a renowned expert and collector of Russian icons. Among the most important specialized collections that have already received it are the Scientific Library of the State Tretyakov Gallery, the Library of the Moscow Kremlin Museums, the Library of the Moscow Orthodox Theological Academy, the Scientific Library of the State Hermitage Museum, the Scientific Library of the State Russian Museum, as well as the Scientific Library of the Russian Academy of Arts.
In addition, the "EKSMO" publishing house, which released the book, has sent copies of the catalog to the Book Chamber of Russia, through which publications are distributed to the sixteen main libraries in the country.
The publication will be of interest not only to professionals in the field of art and culture but also to anyone seeking to expand their knowledge and gain insight into the Russian icon painting tradition.
"Icons are much more than religious artifacts," says Oleg Kushnirskiy. "They hold powerful spiritual messages, and their energy can be felt by those who observe them attentively and thoughtfully. They invite us to silent and profound dialogue about love, beauty, and eternity. About things that cannot be grasped through logic and ratio but instead reveal themselves on a subtle, intuitive level."
The book "Russian Icons from the Mid-17th to the Early 20th Century: The Collection of Oleg Kushnirskiy" is already available in stores. The book launch will take place on April 26 at the Museum of Russian Icon named after Mikhail Abramov (Moscow).
The Museum of Russian Icon is a private collection of Christian art that has been open to the public as a museum since 2006. It was created by entrepreneur and patron Mikhail Abramov and was named after him following his tragic death. The institution has been recognized by the professional and church community, including the International Council of Museums (ICOM) and the Union of Museums of Russia.