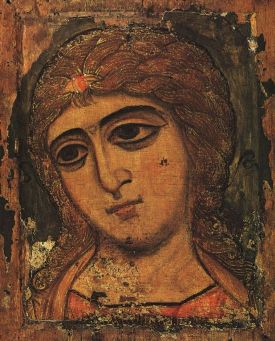 The Angel Gabriel Icon: Variations of the Archangel's Image
The Archangel Gabriel is a significant heavenly figure who occupies a special place in the hierarchy of angels. That is why the Angel Gabriel icon is one of the most highly valued artifacts in the Orthodox world. His name means "God is my strength." This angel is often mentioned in Christianity, as evidenced by a large number of Russian icons dedicated to Gabriel. There are also numerous references to the Archangel in both Judaism and Islam; however, in these religions, he is known by different names.
The most ancient Angel Gabriel icon, which is titled "The Angel with Golden Hair," dates back to the 12th century. Initially, this valuable piece of Russian icon art was discovered in the Rumyantsev Museum in Moscow in 1921. The appearance of this work of religious art, the authorship of which has not been established, remains a mystery to this day. After its restoration, this Gabriel icon was taken to the State Tretyakov Gallery, and then transferred to the State Russian Museum in Saint Petersburg where it is kept now.
According to the iconographic tradition, the Archangel Gabriel is portrayed as a beautiful young man with a halo and wings. He is dressed in a long shirt – tunic, the collar and wrists of which are stitched with gold threads. The color of the dress is white as a symbol of holiness and purity of the angel. Additionally, a typical Angel Gabriel icon depicts the messenger of God wearing a cloak of the color of spring grass, since green stands for the constant renewal of nature, and therefore of all living beings.
Sometimes, the Archangel Gabriel icon depicts him dressed in deacon vestments. On such examples of the Russian icons art, this angel is wearing the orarion – a long narrow stole of brocade or other colored fabric, and the sticharion – a long brocade robe with wide, loose sleeves. Besides, the Archangel Gabriel is often portrayed alongside another important divine character – Saint Michael the Archangel.
Other variations of the Angel Gabriel icon include the following paraphernalia and clothing elements:
a Lily flower;
a wand or a scepter;
a green branch from the Garden of Eden;
a Jasper mirror sphere;
a lighted lantern;
a ribbon with a large gem in the center.
The Archangel Gabriel icons, as well as other Russian icons, are deeply cherished among the connoisseurs of antique and religious art. If you are one of the true appreciators of such unique kind of painting and wish to learn more about famous icons or have your own piece of religious art to be restored or assessed, Russian Icon specialists will gladly help you.