Inside Look into the World of Antique Russian Icons
Antique Russian icons are sacred images that are considered windows between earth and heaven, and a gateway between God and Christian believers. However, they are known throughout the world not only for their spiritual power, but for their artistic value too. Traditionally painted on wood or cloth, antique Russian icons represent a unique form of religious art, distinguished by absolute beauty and symbolic meaning. It is no wonder that they are valued today as masterpieces of art, becoming an increasingly popular and important collector's item.
However, while most collectors and connoisseurs of religious icon art are familiar with antique hand-painted icons depicting Jesus Christ, the Mother of God, Orthodox saints, and different events from the Bible, many people still buy Russian icons without a complete understanding of their meaning and actual value. Such an approach sometimes leads to purchasing a forgery with significant financial loss. Thereby, it is of utmost importance to learn more about Orthodox icons before buying any of them. The good news is that RussianIcon.com and the Moscow Museum of Russian Icon have introduced the best way to look inside the world of antique Russian icons by presenting the first book dedicated to these amazing examples of religious art.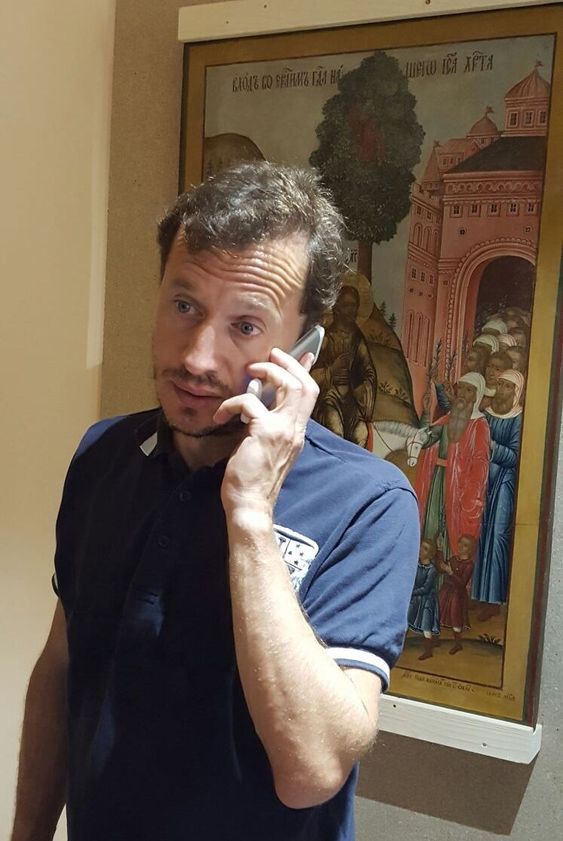 The book represents a beautiful catalog that includes an outstanding collection of antique Russian icons from the 18th – 19th centuries, brought together by several private collectors. Painted in Palekh, Yaroslavl, Mstyora, and other renowned iconographic regions of the Russian Empire, these valuable examples of Russian icon art are some of the most important among existing today. Each of them was carefully studied, evaluated, and described by a competent team of museum specialists and historians, including such reputable experts in Russian icon art as Sergey Khodorkovskiy (in the photo) and Anna Ivannikova. This first collaborative project between our team and the Museum of Russian Icon took two years of work; however, the result is truly impressive.
The Russian Icon catalog includes a series of rare The Resurrection – The Harrowing of Hades icons with Church Feasts, including several 18th-century icons created under the influence of Baroque art. Among other highlights are hand-painted Orthodox icons of the Mother of God, hagiographical icons of saints, and absolutely stunning examples of the Menaion icons, including the renowned Yearly Menaion, which represents a set of twelve icons of saints commemorated every month. High-resolution photos of each of them are also included for your enjoyment.
In general, being a compilation of all knowledge gained through years of research, this book gives an inside look into the world of antique Russian icons. This all makes it a must-have for both serious collectors and connoisseurs of religious art.