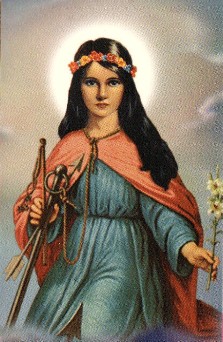 Saint Philomena Relics: The Symbols on the Tombstone
In May 1802, the remains of an unknown virgin and martyr, dated to the first centuries of Christianity, were found during an archaeological investigation in the Catacomb of Priscilla on the Via Salaria in Rome. They were discovered under a tombstone of three layers of burnt bricks. On that day, Franco-Filippo Ludovici, the Vatican superintendent of excavations, reported the discovery of Saint Philomena relics. The next day, Ludovici, accompanied by several witnesses, went down to the catacombs and confirmed the complete clearing of the grave, which allowed to see the tombstone with epitaphs painted in red.
Saint Philomena Relics: The Symbols on the Tombstone
The tombstone featured various Christian symbols indicating the martyrdom of a young woman buried there. A glass vessel half-full of blood was found near her untouched remains.
It was possible to distinguish an anchor on the tombstone, which means hope and courage in Christian symbolism. The image of the anchor placed on the tombstone is also an indication of the martyr's manner of death – drowning with an anchor around the neck. It is interesting that according to believers, the anchor on the tombstone of Saint Philomena relics was similar to the cross, symbolizing the faith in Christ.
The second symbol placed on the tombstone of the martyr – an arrow – indicates the nature of her death. Similarly, the Emperor Diocletian, the cruel ruler who tortured Philomena, wanted to execute Saint Sebastian.
There was a third symbol, a palm branch, placed in the center of the tombstone. It signifies the glorious martyrdom of the young righteous Christian. Just below, there was the symbol of a scourge, with pewter balls woven into the ends of its straps. In the Roman Empire, this punishment was used to torture criminals. Such instruments deprived the first Christians of their lives – they were scourged to death.
The tombstone also featured two arrows pointing in the opposite directions, up and down respectively. It was another indication of the nature of the torment to which St. Philomena was subjected.
A Lily flower, which is a symbol of purity and virginity, was also discovered on the tombstone. The combination of all these symbols and signs made it finally possible to identify Saint Philomena relics, some of the most venerated Christian relics, which are now carefully kept in the Church of Our Lady of Grace in Mugnano del Cardinale, Italy.