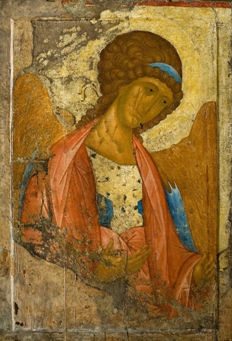 Saint Michael Icon by Andrei Rublev
Tenderness and delicacy are two words that perfectly describe Saint Michael icon painted by the great Russian iconographer Andrei Rublev. Being canonized by the Russian Orthodox Church, Rublev is considered the most revered religious artist of the Russian school of the 15th century, whose exceptional style served as a reference for many subsequent painters and iconographers. The icon "Archangel Michael," along with two other icons, was part of the great Deesis tier of the iconostasis of the Cathedral of the Nativity in the Savvina-Strrozevski Monastery. Now, the icon holds high positions in the displays of the State Tretyakov Gallery in Moscow. So, let's find out who Saint Michael is, and why Andrei Rublev's icon is highly venerated by the Russian Church.
Archangel Michael as the Commander of Heavenly Hosts
Saint Michael is considered a reliable protector of humanity. In Christianity, it is believed that a cherub armed with a sword at the gates of heaven is none other than the Archangel Michael. According to religious legends, he fought against evil for a good cause. In Orthodox icons, Michael has long been portrayed as a harsh winged messenger in the armor of a warrior and with a weapon in his hands, either with a spear or with a sword. However, Saint Michael icon by Andrei Rublev expresses the spirit of tenderness and hope, rather than the archangel's militancy. 
Saint Michael Icon by Andrei Rublev
The artistic style of Andrei Rublev's icon painting involves a combination of Russian and Hellenistic traditions. The peaceful image of the Archangel, performed in warm colors, radiates hope and gives a sense of security. The rosy softness of the face, the flowing golden curls, and the brightness of the archangel's wings create harmony and perfection. Despite the golden color scale, a turquoise bandage is woven into the image as if reflecting the spiritual light and purity.
The interweaving of human features and the heavenly image is fascinating. The domination of pink tones in the archangel's face reflects his genuineness and nature. And the emphasis on bright, expressive wings signifies the presence of his spiritual and heavenly power. Thus, Saint Michael icon by Rublev is a perfect example of holy images. The iconographer managed to combine an absolute immersion in the good and the desire to protect all mankind in one single work.
We hope that you enjoyed this magnificent icon of Saint Michael by the greatest Russian iconographer Andrei Rublev. Stay with us to learn more about other important religious icons!