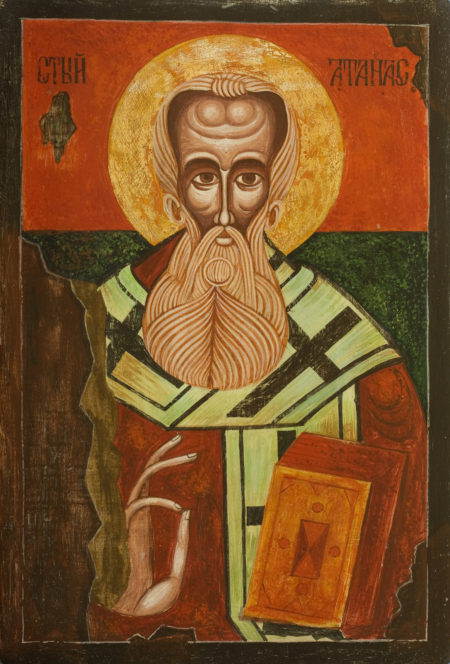 Saint Athanasius Icon. Iconography and Description
Athanasius the Great, or Athanasius the Confessor, is an eminent figure in Christendom. Despite the popularity and relatively sustainable iconography, every Athanasius icon is a significant contribution to the history of Orthodox icon painting.
Athanasius the Great was a Greek church father, famous for his theological texts and confrontation with Arianism. His images are in the icons and frescoes, monasteries and home iconostases; they can be found in Egypt, Greece, Georgia, Bulgaria, countries of Eastern Europe, and Russia.
Saint Athanasius icon. Iconography
Most often, Saint Athanasius icon represents his full-length or half-length image. The church father is depicted in old age, with a bushy white beard and high forehead. Athanasius` garments consist of a white riza with black crosses, omophorion, and an epigonation or palitza suspended from the belt. In most cases, he is depicted with an uncovered head; however, there are also icons showing him in a miter. Athanasius the Great holds the scroll or the Gospel, which tells us about his righteous way of life and literary works.
Icons with the image of Athanasius the Confessor
Athanasius the Confessor is often depicted alone on the golden background, but there are other types of his iconography as well. One great example is the 14th-century Byzantine Athanasius icon with the image of Cyril of Alexandria from the Hermitage Museum collection. Patriarch Cyril, who was also a church father, is often painted with Athanasius. The Church has even established the date of their joint veneration on the 18th of May.
There are also other iconographic variations where Athanasius the Confessor is depicted on the city background (Athanasius icon; Rus, 16th century), with other saints (Theophanes the Cretan, Simeon, Ignatius of Antioch; Rus and Greek icons of the 16th century), or as part of the May menaion (Rus, early 17th century).
History also knows the image of Athanasius the Confessor and St. Martyr Tatiana, a family icon of Athanasius Goncharov, who was the great-great-grandfather of Natalia Goncharova-Pushkina, and his wife Tatiana.
While Athanasius the Great is not as popular as Saint Nicholas or Saint George, his contribution to the development of the Christian Church is invaluable, and many icons are proof of that.