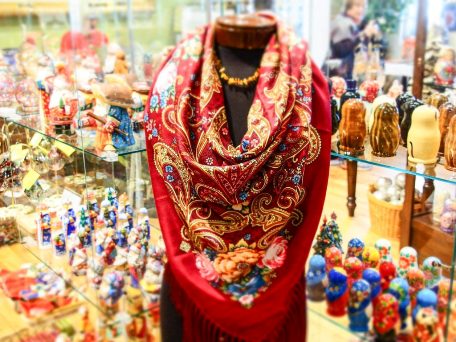 Russian Store at the Museum of Russian Art (TMORA)
The Museum of Russian Art (TMORA) in Minneapolis, MN is a significant venue of Russian culture and history. Being the only major institution dedicated to Russian art in North America, The Museum of Russian Art promotes the necessary understanding of art between two nations, Russia and the USA. Along with exhibiting fine art, the Museum holds displays of antique icons, lacquer ornaments, amber jewelry, national costumes, embroidery, and fabrics. One more important part of TMORA is the Russian store that is located right in the museum.
"Education, Enlightenment, and Engagement through the Art of Russia"
While carrying out the mission of promoting enlightenment, education, and engagement through the art of Russia, the Museum is doing a great job of providing 30,000 people a year with exhibitions of Russian art, various workshops, lectures, and concerts. Since its foundation in 2005 by Raymond and Susan Johnson, art collectors who own a significant collection of Soviet-era paintings, the Museum has been a unique place of Russian culture, free of political influence and propaganda.
Russian store at The Museum of Russian Art
TMORA Museum Store offers a great array of gifts that include unique pieces of culture and history of Russia and the Soviet Union. Among the most popular items offered for sale are Matryoshka nesting dolls that are the well-known symbols of Russia. Any visitor can buy one for their personal collection or even try themselves in painting right at the store.
The shop often hosts famous Russian and American artists who share their experience with customers and give great masterclasses. One of the artists often visiting the Russian store is Natalia Pavlova known for her beautiful hand-painted porcelain ornaments. The store offers everyone an opportunity to pick some of her works as an exclusive holiday gift.
Other gifts at the store include such elements of Russian culture as Faberge eggs, amber jewelry, and traditional scarves and shawls, most of which are delivered from Moscow. Made of high-quality fabric, the latter are perfect to keep you warm on cold days.
The Russian store is also the place to visit for book lovers who can enjoy the cozy and tranquil atmosphere of the store and pick some books opening the world of Russian culture and cuisine. A pleasant bonus will be Russian candies and tea from a real samovar, which are also part of the store's merchandise.
The Museum of Russian Art and the Russian Store are just perfect to explore the culture and history of Russia. Do not miss the opportunity to visit these wonderful places!
Photography: Courtesy of The Museum of Russian Art / tmora.org