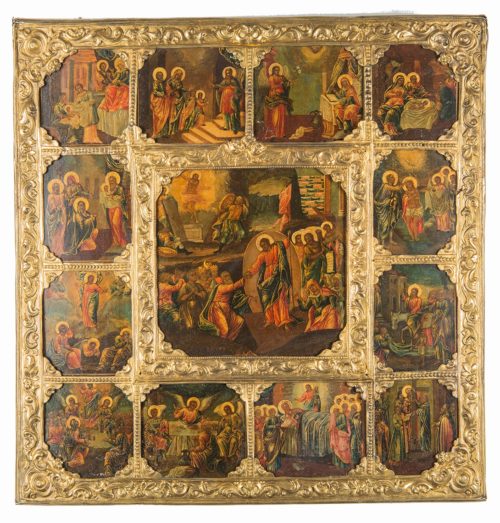 Russian Icons in Latin American Discourse
Our online icon gallery is always striving to find ways of expanding the field of Russian religious icons. One of the prominent events of the last months was the fifth online forum on the cultural and social relationship between Russia and Ibero-America in the modern world and the role Russian icons play abroad. Russian Icon Collection was represented by Ilya Kushnirskiy, co-founder of the gallery and expert in Orthodox icons. Together with the Hermitage, our icon gallery took part in this meaningful event held on October 4-6 via Zoom online conference and offline at St. Petersburg State University. 
Russia and Ibero-America in the Globalizing World: History and Modernity
The round table called "Russia and Ibero-America in the Globalizing World: History and Modernity," during which experts raised critical topics on the cultural patrimony of both countries, was an integral part of the St. Petersburg forum. Renowned art historians, journalists, and art experts from Russia and Latin America had the opportunity to share their knowledge and opinions about possible ways of cooperation between the two countries. Religious art was also a subject of discussion. Among notable guests was Olga Yudina, an experienced art critic from the State Hermitage Museum. As an art historian who specializes in and lectures on Mexican and Russian art of the 20th century, Olga Yudina understands the importance of Russian art dissemination and relationships between Russia and Ibero-America like no other. The forum was also attended by Arturo Saucedo, Carlos Cañas Rojas, Sofia Lokanova, Anna Chernysheva, and Anna Goncharova. 
Russian icons and Latin American society
One of the key forum themes was Russian icons immigration to Latin America. Russian Orthodox iconography and churches began to spread abroad in the 19th century. Subsequently, religious art became an important influence factor on Ibero-American society and culture. Russian frescoes and images can now be seen in many public places and art exhibitions.
The online forum discussed possible ways to develop cultural and historical relationships between Russia and Latin America. As an owner of a rich collection of antique Russian icons, Russian Icon Collection was pleased to be involved in such an informative and interesting event. We believe that through such forums, Russian icons and Orthodox art overall will find their way not only to Latin America but also to other countries worldwide.