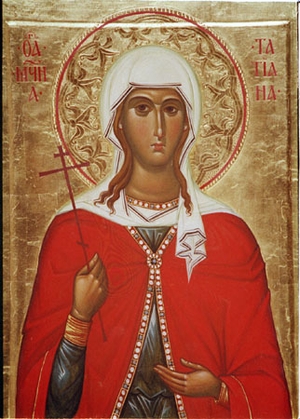 Russian Icon of Saint Tatiana of Rome
St. Great Martyr Tatiana, who lived in the 3rd century in Rome, is highly revered by Christians and regarded as the patroness of students. On her feast day, January 25 (Gregorian calendar), believers say prayers in front of the icons of Saint Tatiana and request help in their studies and protection from all calamities and evils. The Russian icon of Saint Tatiana is venerated by Orthodox Christians to commemorate the martyr's death throes for her faith in one God.
The life of Saint Martyr Tatiana
St. Tatiana lived in Rome during the reign of Emperor Alexander Severus. She was born in the family of a Roman consul who secretly professed Christianity. Since childhood, the girl learned to cultivate faith in Jesus Christ and read the Scriptures. As an adult, she vowed chastity refusing to marry, and devoted her life to God.
It is interesting that St. Tatiana was the first Christian woman deaconess. She constantly helped those in need with food, clothing, and medical treatment. Due to her kindness and righteous life, St. Tatiana became a quite renowned person in Rome. When the terrible persecution of Christians began in the city, she was among the first believers captured to be converted to paganism and forced to worship the statue of Apollo. However, according to the legend, the prayers raised by Tatiana caused an earthquake that destroyed the statue and the temple itself.
During the horrific tortures and torments that Saint Tatiana endured with courage and fearlessness, God suddenly spoke to her and healed all her wounds. Those Romans who tortured the saint fell on their knees in front of her and believed in the Most High God. The judges, however, sentenced the holy martyr, along with her father, to death. On January 25, 226, they both were beheaded.
Russian icon of Saint Tatiana of Rome
The Russian icon of Saint Tatiana usually depicts the martyr as a young woman waist-length, with a gaze full of faith and fortitude. In her right hand, she holds a cross as a traditional symbol of Christianity, meaning the faith in God. She may also hold a scroll with prayers in her left hand.
Every Christian student venerates Saint Tatiana and prays in front of her icon to gain spiritual enlightenment and assistance on the path to the comprehension of the sciences. The Russian icon of the Great Martyr Tatiana is indeed an important shrine in the entire Orthodox Christian world.