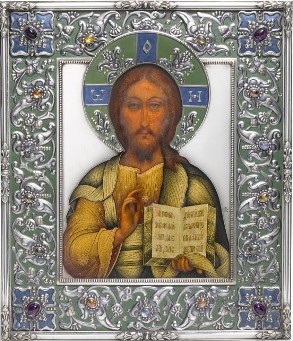 Russian Icon Collection for Sale at Sotheby's
Sotheby's, one of the leading international auction houses, operates even during the coronavirus crisis, offering an outstanding selection of art and antiques. Their current online auction, titled Russian Works of Art, is distinguished by a wonderful Russian icon collection for sale, with many exceptional lots you do not want to miss. In this article, we are going to tell you about some of them.
Before we look closely at the Russian icon collection for sale, it is important to say a few words about Sotheby's Russian Works of Art Auction. Featuring approximately 250 lots, this online auction is going on now through June 17. In addition to Russian icons, the sale includes a broad selection of Fabergé and porcelain items from private European collections.
Russian icon collection for sale at Sotheby's
Icon of Christ Pantokrator
The first piece of Russian icon art presented at Sotheby's auction on our list is an icon of Christ Pantokrator (1908-1917). Сreated in the Art Nouveau style, it is covered by a beautiful oklad decorated with repoussé and enamel in olive green and steel blue colors. The foliate motif is adorned with several types of gemstones, including topaz, amethyst, moonstone, and peridot. The icon depicts Christ Pantocrator holding the Holy Scripture. This icon (pictured above) was likely held in Fabergé's stock before it was received by the family of Nikon Alexandrovitch Molchanov. The icon of Christ Pantokrator is estimated at 60,000-80,000 GBP.
Icon of Saint Alexandra of Rome
Another Russian icon featured at Sotheby's auction is a silver-gilt icon of Saint Alexandra of Rome (1909). Painted on copper, it depicts the martyr Alexandra with a crown on her head. The icon was presented by Georgi Krupenski to the Church of St. Andrew the Apostle in the Chisinau preparatory in memory of his mother. This information is engraved on the backside of the icon. Its estimated cost is 60,000-80,000 GBP.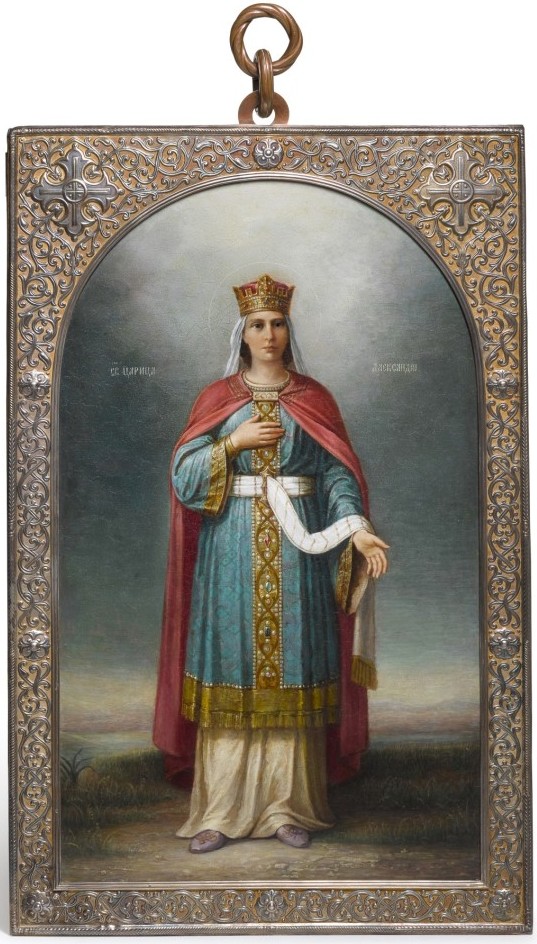 Triptych
The Russian icon collection for sale at Sotheby's also features a beautiful triptych icon (1908-1917) with the images of Jesus Christ in the center, Saint Anne to the right, and Saint Nicholas to the left. The icon is decorated with gilt borders, pearls, niello scrolls, and filigree. It is estimated at 30,000-50,000 GBP.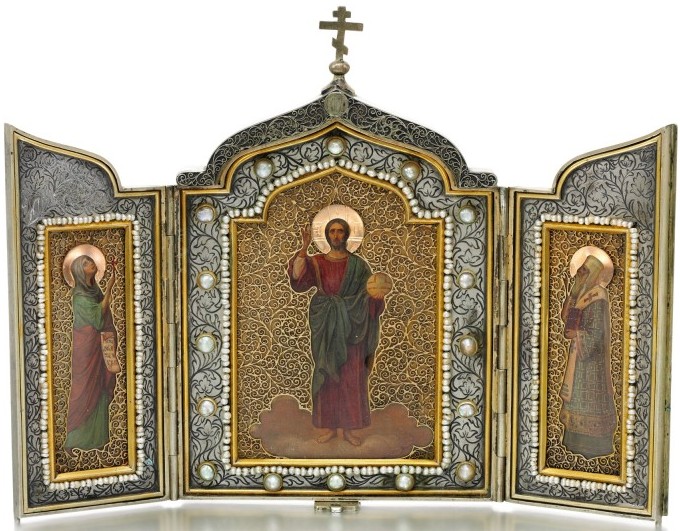 If you love these three icons, you will definitely love all other lots presented at the Russian icon auction by Sotheby's. Check out this fabulous selection of valuable icon art while it is still on view and available for sale!
Photo credit: Sotheby's/sothebys.com