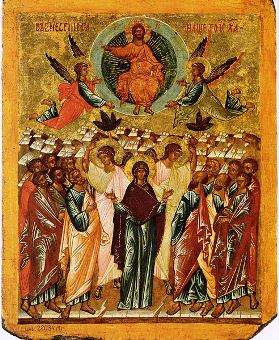 Russian Icon of the Ascension of Our Lord
The Ascension of Our Lord is one of the key events of the New Testament, mentioned in Luke-Acts. It is also one of the Twelve Great Feasts, which is always celebrated 40 days after the Resurrection, and this year, the Ascension falls on May 17. This important event marking the final elevation of Jesus Christ's human nature to divine glory has great meaning for all Christian believers, so it is no wonder that religious icon paintings depicting the Ascension of Our Lord are full of joy. In this blog post, let's take a closer look at the Russian icon of the Ascension and its most common composition.
Russian icon of the Ascension
First of all, it should be mentioned that any Russian icon of the Ascension of Our Lord is a representation of the Church, not a historical picture. Described by St. Luke the Evangelist, it shows Jesus Christ being taken up into Heaven on the Mount of Olives in Jerusalem. The Russian icon of this significant event is usually divided into two parts: top meaning heaven and bottom meaning earth.
Jesus Christ is depicted inside the mandorla (an almond-shaped aureola that appears in many religious icons of Christ and the Theotokos), which is being carried up by two angels. He is often holding a scroll or a Gospel in His left hand, while His right hand is raised in a blessing gesture, thus showing God's knowledge and love for humanity.
The Mother of God is depicted at the center of the lower part of the Russian icon of the Ascension, with her hands raised toward Heaven. In Eastern Orthodox icons of this type, she represents the entire Church waiting for the second and glorious return of Jesus exactly as He ascended. The group of disciples surrounding the Mother of God is shown in somewhat confusion, preparing for accepting the Holy Spirit promised by the Savior.
The Russian icon of the Ascension of Our Lord additionally depicts two men dressed in white, standing next to the Mother of God. According to Luke-Acts, they suddenly appeared before the disciples and announced about the Second Coming of Jesus Christ. Finally, it is also worth noting that most Eastern Orthodox icons of the Ascension, including Russian icons, are usually painted with bright colors, which only proves the fact that any of them is a joyous icon depicting a truly important for all Christian believers event.