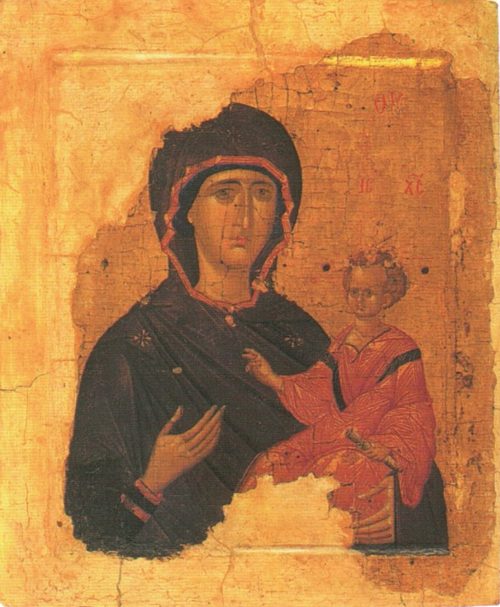 Popular Icons of the Theotokos: The Virgin of Smolensk
Icons of the Theotokos are holy images highly revered in Russia. The most popular Orthodox icon of the Mother of God with the Infant Christ, which was often used to bless soldiers before a mission, is the Hodegetria (from the Greek "She Who Points the Way"). Interestingly, after the Byzantine Empire fell, it was the Virgin Hodegetria who began to be regarded as the defender of the Russian land. One of the most famous examples of the Hodegetria icon is the Virgin of Smolensk. This antique icon is greatly revered by all Orthodox believers. 
Icon of the Virgin of Smolensk and its history
According to the legend, the Smolensk icon of the Mother of God was painted by Luke the Evangelist during the lifetime of the Mother of God. There is no reliable information about how and when the image came to Russia. It is believed, however, that the Virgin of Smolensk came from Greece around 1046. With this icon, the Greek emperor Constantine IX Monomachos blessed his daughter Anna when marrying her off to Prince Vsevolod Yaroslavich. The shrine soon became a symbol of the Russian principality and began to be passed down through generations.
Prince Vladimir Monomakh brought the icon to Smolensk and built there a church of the Dormition of the Blessed Virgin Mary. Thus, the icon became known as the Smolensk icon.
It is also worth noting that, according to the legend, the icon helped save Smolensk from an invasion of Batu's army in 1239. At the behest of the Mother of God, the Orthodox warrior Mercurius secretly infiltrated the ranks of the Mongols and killed many enemies. Later, he was canonized. 
The Virgin of Smolensk, one of the most popular icons of the Theotokos 
As mentioned above, this icon belongs to the Hodegetria type. Such icons of the Theotokos depict the Virgin Mary together with the Christ Child. Mary is shown waist-length, with her left hand holding Jesus. Christ has a scroll in His left hand and raises His right hand in a gesture of blessing. He does not look at the Virgin, but directly at the beholder. On the reverse side of the original image of the Virgin of Smolensk, which is now, unfortunately, lost, was a crucifix with the Greek inscription "The King is crucified" against the background of Jerusalem.
The Smolensk icon of the Mother of God is one of the most important icons of the Theotokos in the Russian Church. Its historical significance and meaning make this shrine highly revered and beloved by the Orthodox faithful. It is believed that the Hodegetria of Smolensk protects and patronizes the western borders of Russia.
The Virgin of Smolensk is commemorated on August 10.