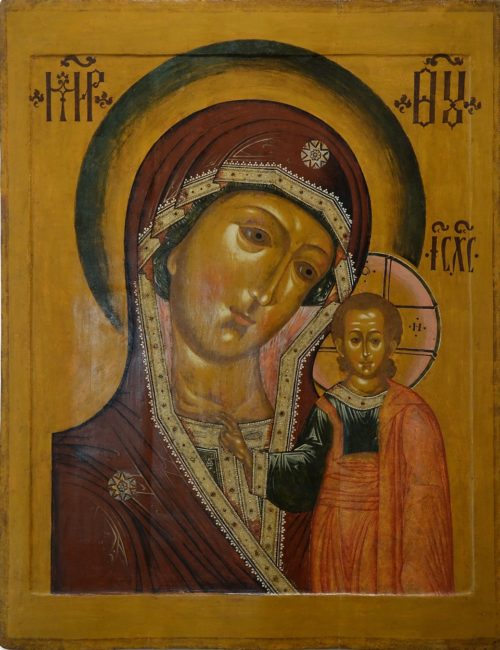 Our Lady of Kazan – One of the Most Revered Theotokos Icons
Our Lady of Kazan is one of the most revered icons of the Mother of God in the Russian Orthodox Church. This shrine is placed over the baby's cradle, given as a wedding gift, and taken on long journeys. The reason is that the icon is believed to be endowed with miraculous powers and have a strong energy that prevents disease and protects one from evil and trouble. Even though the original icon was stolen, its copies are kept in various temples and monasteries around the world and are highly venerated by Orthodox believers.
The history of Our Lady of Kazan
According to the church legend, there was a devastating fire in the city of Kazan. After the disaster, the Virgin Mary appeared to a girl named Matrona and told her to notify the local archbishop that there was an icon buried under her parents' burnt house. Certainly, no one ever believed the words of the 9-year-old girl. When the Mother of God appeared to Matrona again, the girl and her mother discovered the icon and dug it out of the ground by themselves. The holy image was transferred to the Annunciation Cathedral of the Kazan Kremlin, hence its name.
After the icon of Our Lady of Kazan was revealed to the world, a number of miracles related to the healing of the sick, including many blind people, began to occur. Unfortunately, in 1904, the shrine was stolen and likely destroyed.
In Russia, the feast days of the icon are celebrated on July 21 and November 4.
The description of the holy image
Our Lady of Kazan is a close-up version of the Hodegetria icon of the Mother of God. The only difference is the posture of the Christ Child, who is depicted standing. Traditionally, icons of this type are small (9 x 11 inches).
The icon depicts the Mother of God chest-length and Christ full-frontal. There are no other analogs of the Mother of God icons with such a combination of images; however, it is believed that the original icon could depict a life-size image of the Theotokos. The icon might have been burned in the fire, resulting in some changes in its subsequent iconography.
Our Lady of Kazan is among the most revered icons in Russia. Currently, it is also one of the most independent types of the Mother of God iconography in the Russian Orthodox Church.