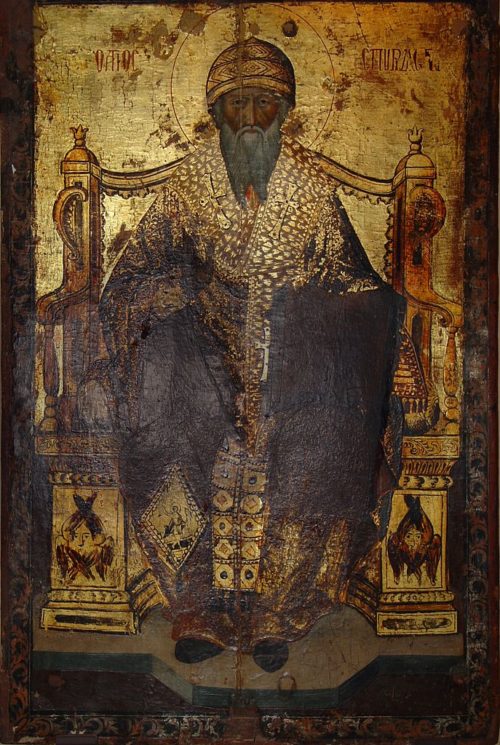 Orthodox Icon of Saint Spyridon, Bishop of Trimythous
Saint Spyridon, Bishop of Trimythous, one of the Christian wonder-workers, is commemorated on the Orthodox calendar today, December 25. The saint is recognized for his gift of healing the sick, casting out evil spirits from people's souls, and sincerely preaching the word of God. Numerous legends and stories go around among the faithful about Spyridon's deeds and amazing miracles that saved so many lives. In this blog post, let's take a closer look at the life of the saint and his Orthodox icon that is venerated by Christians around the world.
Who was Saint Spyridon, Bishop of Trimythous?
Saint Spyridon was born on the island of Cyprus around the end of the 3rd century. From childhood, he shepherded and led a God-pleasing life. Spyridon wholeheartedly aided the needy and the homeless, due to what he received from God the incredible gift of performing miracles.
The saint was ordained a bishop in the city of Trimythous and thereafter continued to spread the word of God to the world and to fulfill His will, helping the poor and defending the faith in One God by all means.
According to the words of some historians, Saint Spyridon, Bishop of Trimythous took part in the First Ecumenical Council of Nicea in 325, where he defended the basic truths of the Christian faith before the famous philosopher Arius. In the end, Spyridon's rival accepted the Wisdom of God, which the saint showed him during the debate. It is also interesting that at the Council of Nicea, Saint Spyridon met another well-known Christian saint, Nicholas of Myra, who would become his good friend.
Orthodox icon of Saint Spyridon, Bishop of Trimythous
There are several variations of Orthodox icons depicting Saint Spyridon, Bishop of Trimythous. One of them shows the saint on a throne, vested in the garments of a bishop. He is usually wearing the omophorion and also a traditional shepherd's woven straw hat. Spyridon holds the Gospel in his one hand and raises the other in a gesture of blessing.
The Orthodox icon depicts the saint as an old man with a white beard and wise eyes, rather in a simplified way than in a realistic manner, which was one of the distinctive features of Cretan iconography.
Saint Spyridon, Bishop of Trimythous is deeply revered for his exalted faith in God, kindness to people, and desire to establish justice in the whole Christian world. His Orthodox icon is just as capable of performing miracles as the saint himself, so say your prayers and show your gratitude to the icon, and Saint Spyridon will help heal your ailments.
Photo credit: Wikimedia Commons User Yelkrokoyade / CC BY-SA 3.0