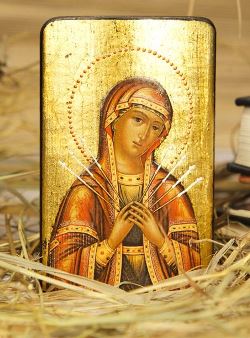 More Tips on Caring for Religious Icons
Religious icons serve a number of important purposes. They help to sanctify and transform us. They encourage us to imitate the virtues of the holy persons, whose lives on earth are considered instructive and exemplary. They lift us up to a higher level of feeling and thought. They constantly remind us of the Christian faith and direct us onto the right path. They serve as a means of veneration and worship. They enhance the beauty of a church, not to mention that Russian Orthodox icons are real gems of any religious icon art collection. In this way, no matter whether it comes to modern or antique icons, each of them is worthy of careful handling. So let us give you some more tips on the proper care for holy icons!
Cleaning
Hand-painted Orthodox icons should be periodically dusted with a soft white cloth or a wide squirrel hair brush. Do not use any chemicals or cleaning products as they can easily damage the painted surface. In addition to dusting, any religious icon should also be re-oiled and cleaned every fifty years to remove candle soot and accumulated dirt. It is better to entrust this painstaking process to a proven antique icon restoration professional.
Transportation
There is a beautiful Russian tradition that holy icons should be delivered in person. However, it cannot always be observed for obvious reasons. Thus, when it comes to the long-distance or international shipping, make sure your religious icon is properly packed. Use special bubble wrap and a clean white towel to wrap the icon and then pack it into a sturdy cardboard box with a load of padding. Besides, you can always order fine art shipping and packing services for greater reliability.
Framing
It is believed that there should not be obstacles between the holy person depicted in the Eastern Orthodox icon and the viewer so that it is recommended not to frame original icons. However, some of them do need to be protected by glass, especially when it comes to antique Russian icons. In case the framing is necessary, make sure it is made in a proper way, and the icon's painted surface doesn't touch the front glass.
Storage
Orthodox Christianity icons may be stored either vertically or horizontally, but do not stack them or let them contact hard surface as they can easily be scratched. Use large sheets of wax paper or clean towels for wrapping and then place each religious icon in its own quilted cotton "envelope bag" or canvas tote bag. Do not store icons in plastic bags. Besides, avoid hot sun and high temperatures as the heat can make olifa tacky.
Use these simple tips to preserve your beloved hand-painted icons for the next generation. Just remember that holy icons are much more than just beautiful pieces of art – they are "windows into heaven" and should be treated in a corresponding way.