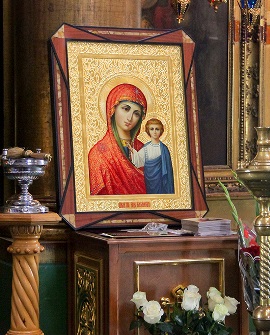 How to Care for Antique Russian Icons?
Antique Russian icons are much more than just pieces of sacred art – they are so-called "windows into heaven" that facilitate a heart-to-heart and eye-to-eye relationship with Jesus Christ, the Mother of God, the saint, the guardian angel, or another depicted person. In this way, proper caring for antique icons is very important for both, religious icon art collectors and Christian believers. So if you want your antique Russian icons to be preserved and kept in optimum condition, follow these simple guidelines:
Never store your hand-painted Orthodox icons made of wood in a room where furniture or walls may be infected by wood-destroying insects. These beetles can turn any item into dust in just a year. In case your antique icon is already damaged, and you see small holes on the back of its board – immediately contact a professional restorer!
Religious icon art comes from a time long before the appearance of special picture hooks and frames, so that the best place to display an Eastern Orthodox icon is on a stand or wall-mounted shelf at eye level.
Avoid sharp and extreme changes in humidity and temperature as they can easily cause cracks, as well as separation of wood, gesso, and paint layer. The best humidity level for religious icons is 50% – 60%, and optimal temperature level is 15Cº – 22Cº (60Fº – 72Fº).
It is better to keep the most valuable and rare antique Russian icons in kiots, special custom-made wooden cases with glass front, used to display and protect icons from humidity changes, light, and dust.
Place your religious icons away from direct sunlight, heat or bright lamps, radiators, and heaters. Needless to say that bathroom and kitchen are completely unsuitable storage spaces.
If you see the significant loss of the painted surface or cracks on your antique icon, call reliable restoration experts able to professionally examine the item and suggest the appropriate restoration works. Don't try to restore antique Russian icons on your own as, most likely, it will lead to irreparable damage.
Never rub your Orthodox icon with wax, cover its painted surface in any type of lacquers, or drive nails.
If you need to wipe the dust from your Russian religious icons, don't use any cleaning or chemical products as they will affect the integrity of the painted surface. Use a wide brush made of natural squirrel hair or simply a soft, dry cloth.
These simple and straightforward guidelines will assure that your antique Russian icons are always kept in good condition. Just follow them, and your precious possessions will be preserved for next generations. However, if you require professional assistance, do not hesitate to contact RussianIcon. Our experienced team of Orthodox icon experts is always ready to help!