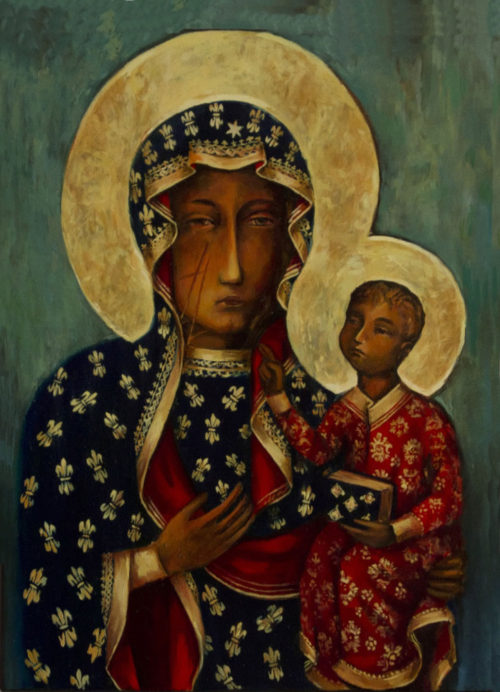 Monastery Icons: The Black Madonna of Czestochowa
The religious shrine known as the Black Madonna of Czestochowa, which is kept in the Jasna Gora Monastery in Czestochowa, Poland, is highly revered by both Catholic and Orthodox Christians. It is one of the most important monastery icons in the world and the most significant relic in Poland, with many pilgrims coming to the monastery each year to see and venerate it. However, despite the fame among the faithful around the globe, the provenance of the Black Madonna of Czestochowa is enveloped in mystery.
The legend of the Black Madonna of Czestochowa
As the legend says, one of the world's most renowned monastery icons, the Black Madonna of Czestochowa was originally painted by Saint Luke the Evangelist. It is also believed that in 326 AD, St. Helena brought the icon, which she received as a gift, from Jerusalem to Constantinople where it remained until the 8th century.
The miraculous image became the treasure of the Pauline Fathers' Monastery at Jasna Gora due to Vladislaus II of Opole who brought the icon from the Ukrainian town of Belz. Since that time, it has been Poland's main Christian shrine. Its feast is celebrated on March 19.
The sacred relic has been repeatedly attempted to be stolen from the monastery, but it has always been returned. However, in 1430, it was severely damaged by the Hussites who broke into the monastery. When the robbers tried to flee with the icon, their horses refused to move for some reason. One of the Hussites then threw the icon of Our Lady and struck it twice with his sword. But when he tried to harm the image the third time, he suddenly fell to the ground and died in terrible agony. Two deep scars are still visible on the icon's surface.
Monastery icons of the Black Madonna of Czestochowa
The original image, as well as all later monastery icons of the Black Madonna of Czestochowa, belong to the Hodegetria type. Each of them depicts the Mother of God with the Christ Child. The countenance of Mary is marked by a deep melancholy. She is depicted with an elongated nose, expressionless lips, and half-closed eyes. One hand of the Virgin Mary is pointed toward Christ as the only Savior of mankind. Although there is no visual contact between the Mother of God and Jesus, there is still a feeling of certain closeness. Their halos almost merge into one, and their vestments are both richly decorated with golden flowers.
Keep reading our blog to learn more about the Black Madonna of Czestochowa and other important monastery icons venerated around the world!