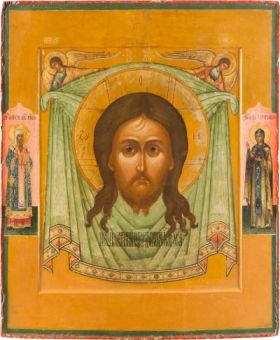 Miraculous Icons at the Russian Icon Store in Boston
It is widely known that Russian antique icons are valued the most among the appreciators of iconography. True connoisseurs of religious art works tend to become enthusiastic collectors of these precious artifacts and buy Russian icons depicting numerous biblical plots. Hence, any Russian icon store provides its customers with an abundant choice of religious masterpieces. One of these stores is The Russian Store, and here are some of its newest miraculous icons available for sale.
The remarkable example of the old Russian icons is the mysterious relic called the Image of Edessa or the Holy Mandylion (pictured above), which became the subject of many ancient icons. There is also its analogy in Western Christianity – The Veil of Veronica.
What is so wondrous about this image of Jesus Christ is that it is "not made by hand." According to the biblical lore that exists in the Orthodox tradition, this relic was created by the Son of God Himself in response to the request of Abgar V, the king of Osroene. He suffered from leprosy and sent letters to Christ, begging Him for healing. Since the king himself could not come and see Jesus because of his illness, he instructed his artist to draw the Saviour from nature. When the artist failed to create His portrait, Jesus Christ took an ubrus ("towel" in Church Slavonic) and wiped His face with it – and the face of the Savior was marvelously imprinted on the cloth. Thus, according to the legend, the Holy Mandylion became the first icon in history. And now every interested collector can purchase its refined representation at the aforementioned Russian icon store.
Another remarkable piece of religious art available at this religious artifacts store is the Saint Paraskevi of Iconium, otherwise known as Paraskeva Pyatnitsa. It is one of the favorite icons of Orthodox Christians. However, the life of the great martyr depicted in it was full of hard trials.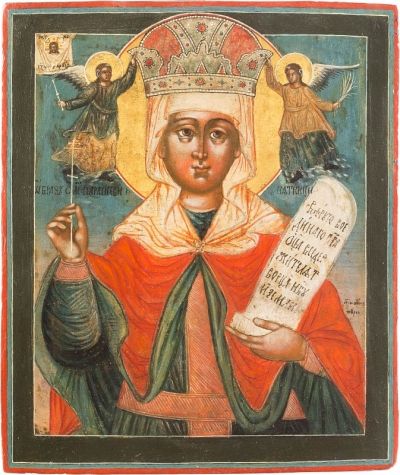 Paraskevi was born in a wealthy Christian family in Iconium (the territory of modern Turkey). Her parents were devout Christians and even named their daughter after the Good Friday – Paraskevi means "Friday" in Greek.
She grew up preaching God's word and helping people around her find true faith during the reign of the cruel and oppressive Roman emperor Diocletian. One day, he sent the eparch to Iconium to identify and prosecute the Christians. Paraskevi was the first to be put on trial. She refused to offer sacrifices to pagan gods and was subjected to severe torture, but her injuries were wondrously healed right after each torture. Unfortunately, Paraskevi was executed by beheading. However, even after her death, the relics of Paraskevi continued to work miracles, healing the afflicted and protecting them from negativity.
There are plenty of full-length portraits available at different Russian Orthodox stores including the Russian icon store we are discussing here. Such religious images show Saint Paraskevi holding a plate with two eyeballs. This plot originates from the martyr's life. After repeated torture that, nevertheless, did not shake her faith in Christ, Diocletian demanded that Paraskevi splashed him in the face with hot liquid. As expected, he was severely burned and blinded for his sinful deeds. However, Paraskevi healed him and restored his sight. The version presented at the Boston-based Russian icon store is a half-length image of Saint Paraskevi. In her right hand, she holds a cross as a sign of martyrdom, while in her left hand, there is a piece of paper with the Nicene Creed words on it.
Specialists of Russian Icon are always ready to assist you with the qualified appraisal of your own religious artifacts or to give some helpful advice on whether to purchase any particular item from any relics store.
Photo credit: The Russian Store/russianstore.com