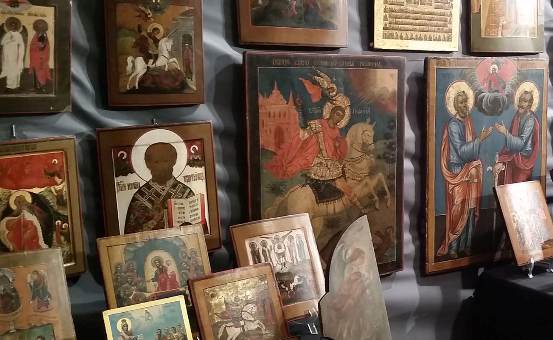 The Russian Store in Boston, MA
While there are many Russian icons available for sale online, to find really valuable ones is not that easy. Moreover, with so many fakes out there, it is very important to be extremely careful when buying antique icons or any other religious artifacts from unverified sources. If you want the peace of mind knowing that the item is authentic, always consult with a trusted Russian icon expert before making a purchase. Another reliable way to acquire 100% original antique icons is to deal with a reputable company specializing in religious icon art. For example, let us recommend The Russian Store in Boston, MA!
The Russian Store in Boston
The Russian Store in Boston is a premier destination in the United States for antique Russian icons, Catholic reliquaries, and other Christian artifacts. The company was established in 1994 and since then has been a go-to place for all those looking to acquire authentic religious items of exceptional quality. Moreover, The Russian Store is the only official supplier of Christian icons and relics in North America for the Synod of the Russian Orthodox Church Outside Russia.
It is also worth noting that The Russian Store is not only a store but also an online gallery featuring an extensive selection of antique Russian icons and artifacts for any taste. These include magnificent icons of Christ, icons of the Mother of God, icons of Christian martyrs and saints, small traveling icons, pendant icons, important Catholic reliquaries, crosses, and more. Besides, if you are looking for any special Russian icon or religious artifact and cannot find it on the company's website, just contact The Russian Store in Boston. The company has well-established relationships with many reputable antique dealers, auction houses, and collectors in the United States, Russia, and other countries, and they will be happy to help you find any Russian icon or religious artifact you need.
The Russian Store in Boston is indeed a great place to acquire authentic Orthodox icons of museum quality, high-value Catholic relics, and other religious objects at very reasonable prices. Besides, if you buy something online, you can return the item within 30 days for any reason, provided that it is in its original condition. This means that you have an opportunity to examine any icon or artifact personally before making a final decision. Plus, the company not only sells objects of devotion but also buys interesting genuine items that are in good condition. So if you have something for sale, do not hesitate to contact The Russian Store in Boston for a fair deal!
Photo credit: The Russian Store/russianstore.com