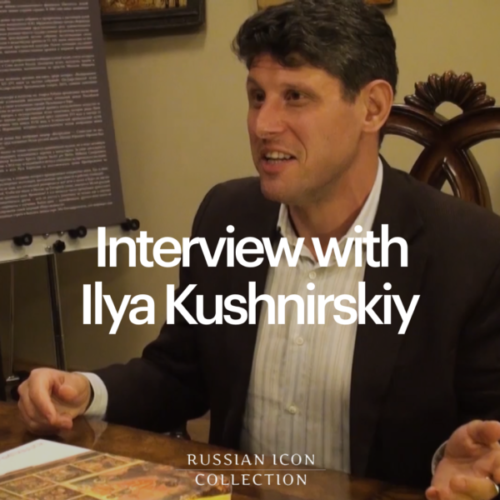 Interview with Ilya Kushnirskiy, Director of Russian Icon Collection
We are happy to share with you a new interview with Ilya Kushnirskiy, the son of Oleg Kushnirskiy and director of Russian Icon Collection, conducted by Andrei Boldyrev. Ilya talks in depth about growing up watching his father build a collection of antique icons and learning to love and appreciate art. The video is out now on the Russian Icon Collection YouTube channel.
Interview with Ilya Kushnirskiy, Director of Russian Icon Collection
Ilya Kushnirskiy has been surrounded by art since childhood. He vividly remembers his father, Oleg Kushnirskiy, bringing home works of art and antique Russian icons, and how fascinated he was with them as a child. Later, his love for art would only grow, inspiring him to visit museums and exhibitions all by himself. This was when he started developing a true sense of appreciation for art, which led him to become the professional he is today.
Unlike his father, who is a collector, Ilya Kushnirskiy is not that interested in collecting art himself. What he likes the most about his current job as CEO of the art logistics company Fine Art Shippers is being able to build connections with people who share his passion for art in different parts of the US and the world.
Even though Ilya Kushnirskiy has traveled the world a lot and seen how diverse and multifaceted art can be with his own eyes, Russian icons still hold a special place in his heart. He talks about the special sacred connection between Russian people and religious works of art and how his upbringing influenced his relationship with Orthodox icons.
Russian Icon Collection expresses its gratitude to the interviewer, the antique collector Andrei Boldyrev, who brought to the table his priceless insights into the world of art and antique collecting. Check out the new interview on our YouTube channel if you want to learn more about the life of the person who is helping preserve the legacy of the traditional icon painting tradition.
About Russian Icon Collection
Russian Icon Collection is a project dedicated to the conservation and popularization of the Russian icon painting tradition. Our recently published book "Russian Icons from the Mid-17th to the Early 20th Centuries: The Collection of Oleg Kushnirskiy" features 46 religious works of art collected by Oleg Kushnirskiy, alongside academic articles authored by the leading researchers in their respective fields. Learn more about it here.