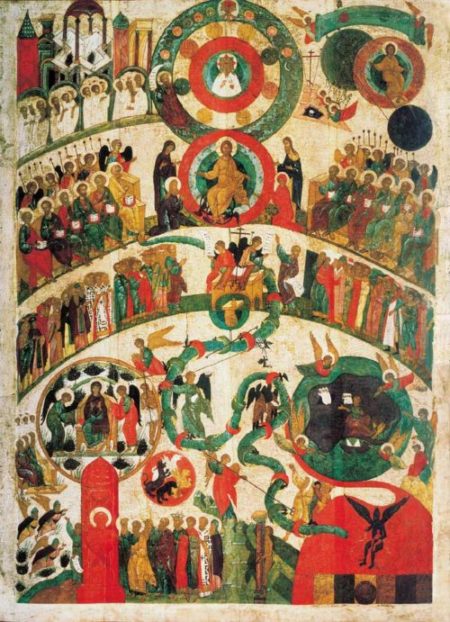 Icon of the Last Judgement. Appearance and Iconography
The icon of the Last Judgement is one of the most significant and complicated images in Orthodox iconography. Unlike other icons, it depicts the events that haven't happened yet and wait for Christians after the Second Coming. The icon of the Last Judgement plays a critical role in the Orthodox faith and reflects one of the key conceptions of the entire Christian religion.
First images
The plot of the icon dates back to early Christian times. The first primitive images of the Last Judgement can be seen in Roman catacombs. Almost until the period of the High Middle Ages, the iconography was based on texts about ten maidens and the separation of the sheep and goats. Such images appeared mainly in frescoes.
The icon of the Last Judgement acquired its features in the 9th-10th centuries, but only in the 12th century, the image moved from the church walls to the wooden boards. Among the earliest examples are icons from Saint Catherine's Monastery in Sinai and the Assumption Cathedral of the Moscow Kremlin.
Icon of the Last Judgement. Iconography
The scene of the Last Judgement has a strong visual structure and is divided into some registers with different plots. The upper part of the composition represents the kingdom of heaven. There are images of God Savaof surrounded by angels, the Holy Spirit in the form of a dove, Christ in mandorla, angels with a scroll, fallen angels (on the right side), and conditional heaven (on the left side). Icons with the image of God the Father as a human are attributed to the period before the Schism of the Russian Church that banned such images. Since the second part of the 17th century, the central part of the composition has been featuring the image of the Holy Trinity or Christ.
The next register of the composition depicts Christ enthroned, surrounded by the Mother of God, John the Baptist, and Adam and Eve. On either side of the composition are angels and figures of the Twelve Apostles who take part in sentencing. The source of the fiery river that carries sinners to hell is also depicted in this register.
The following register shows the image of Hetoimasia and two groups of people. On the left side, there are righteous people; the sinners with the features of different nations appear on the right side. The serpent or the fiery river and Moses fight for the souls.
The bottom part of the composition is also divided into separate plots. There are scenes with the Virgin Mary asking Christ to forgive the sinners, the vision of Daniel, and allegorical images of four kingdoms that will be destroyed. There are also scenes of hell and tortured sinners and the solemn procession of the righteous to the gates of heaven.
The icon of the Last Judgement features rich and complicated iconography. However, each element of the composition has a deep meaning and very interesting symbolic interpretation.