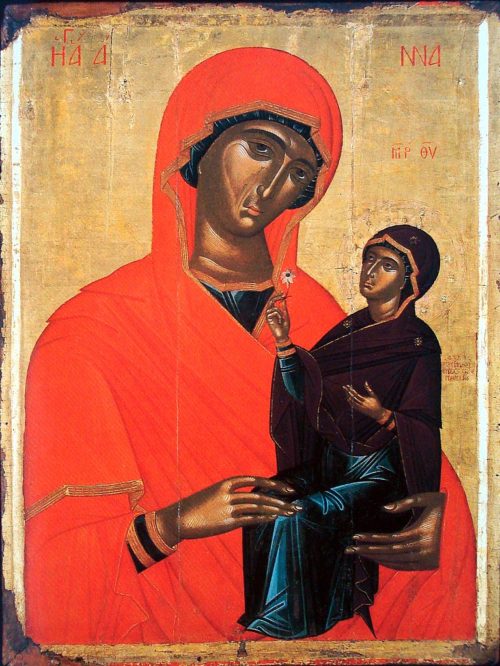 Greek Icons of Saint Anne, the Mother of the Theotokos
Although St. Anne does not appear in the four canonical Gospels, she is the subject of many apocryphal texts and religious icons, particularly Greek ones. St. Anne is the mother of the Virgin Mary and the wife of St. Joachim. Greek icons of Saint Anne are not widely popular among Christians, but they still deserve your attention. Let's take a closer look at some distinct characteristics of such icons.
St. Anne, the mother of the Blessed Virgin Mary
Saint Anne was born into a priestly family from Bethlehem. Anne married St. Joachim, but she could not give birth to a child for a long time. For 20 years, both husband and wife were praying to God for a miracle, but nothing happened. One day, St. Joachim decided to leave home and live in seclusion out of ridicule and grief. In the desert, he had a vision of an angel announcing to him the imminent birth of a daughter who would be destined to become the Mother of the Son of God. At the same time, the angel also came to Anne and asked her to meet her husband at the Golden Gate in Jerusalem. As God had promised, St. Anne soon gave birth to the Blessed Virgin Mary. When the girl reached the age of three, Anne took her to the temple in Jerusalem and never saw her again. She died at the age of 70, two years after her husband.
Greek icons of Saint Anne
Greek icons usually depict Saint Anne with the baby Virgin Mary (pictured). She holds Mary in her arms, and the Virgin gazes fondly at her mother. The face of Saint Anne is focused and marked with special reverence.
Among other interesting iconographic examples are icons dedicated to the Conception of St. Anne. Saints Joachim and Anne are depicted with their hands folded in prayer or raised, while the Blessed Mary stands propping up the serpent with her feet.
In earlier Orthodox icons of St. Anne, with the scenes of the Presentation of Jesus Christ, she is depicted standing behind the Virgin Mary and pointing to Christ. Some Greek icons also depict St. Anne with a rolled scroll containing the words of salvation for all who lived in Jerusalem.
St. Anne is considered the patroness of single women, widows, and nuns. The faithful pray in front of her icons for the conception of a long-awaited child and for strength and support in childlessness. The icons of St. Anne are also considered a good gift for young spouses.