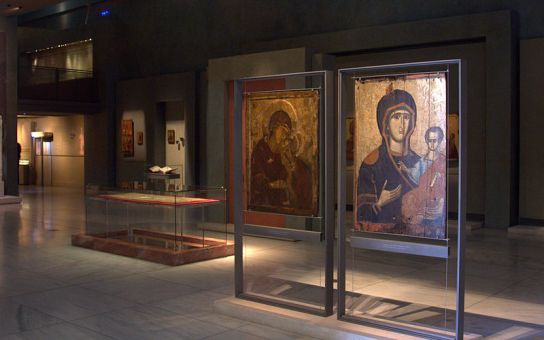 Greek Icons at the Museum of Byzantine Culture
The Museum of Byzantine Culture in Thessaloniki, Greece is an excellent place to immerse yourself in the Byzantine world. Each room of the museum is devoted to a specific period, sphere of life, and culture of Byzantium. Thus, the separate rooms display collections of wooden and copper plates, jewelry, coins, and icons. Despite the limited number of artworks, the collection of Greek icons features high-quality and worldwide acclaimed pieces.
Greek icons as unique heritage of Byzantine culture
The museum's collection of Greek and Byzantine icons was assembled from different parts of the country. The artworks were also brought from the islands of Northern Greece and Constantinople. It is worth saying that many of these icons have been exhibited not only in Greece but also abroad, which confirms their international significance and value to the world culture. An important contribution was particularly made by the antique icons from the amazing collection of Demetrios Economopoulos, which consists of 1,460 pieces dated between prehistoric times and the 19th century. The famous collector donated to the museum some truly impressive artifacts of the highest quality.
Diversity of icons
Greek icons are perfect examples of religious art from different periods of the Byzantine Empire. A separate group of works came to the museum from the Ottoman and Venetian territories and includes pieces from the late 12th to the early 20th centuries. Both early and late icons are in the permanent collection of the museum, including icons of the Late Byzantine and Palaeologan period. The collection also features a unique group of icons from the Post-Byzantine period, showing the diversity in icon painting techniques and new trends in the art of the Cretans.
Iconographic themes of the collection
The collection of Greek icons at the Museum of Byzantine Culture features icons with a variety of iconographic themes and compositions. They depict a multitude of holy figures and religious events from the Bible and the sacred world, inspired by the Four Gospels, the Old and the New Testament, etc. Some remarkable works are signed, so it is even possible to recognize the authors of the presented icons.
This article was just a small outline of the remarkable artworks at the Museum of Byzantine Culture in Thessaloniki, one of the best museums in Greece. Stay with us to learn more about the amazing world of religious icons!
Photo credit: Wikimedia Commons User Tilemahos Efthimiadis / CC BY-SA 2.0